Operating Hours & Seasons
The Taft Education Center and Taft House
are CLOSED until further notice.

Due to the ongoing coronavirus (COVID-19) pandemic, indoor visitor facilities at William Howard Taft National Historic Site will be until further notice.

Park grounds will remain open to the general public daily, from 9:00AM until 5:00 PM.


For current information about the novel (new) coronavirus (COVID-19),
please visit the National Park Service Public Health update page.
For information on national operations for the National Park Service,
please visit our Communications page.
---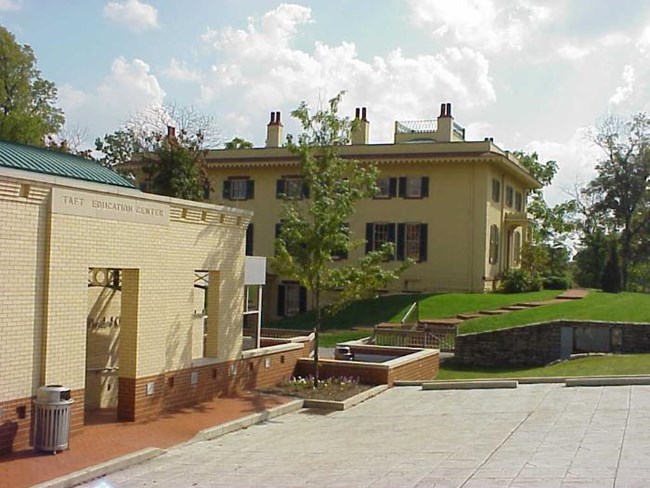 William Howard Taft
Education Center & House
William Howard Taft National HIstoric Site is open seven days a week. The park is closed on the following Federal holidays: January 1st, Thanksgiving Day, and December 25th.


Current Hours of Operation:
Every day - 8:30 a.m. to 4:45 p.m.
Guided Tours of the Taft House will still be every thirty minutes. The last guided tour of the day will be 4:00 p.m. A "mini-tour" will be offered for any late-comers at 4:15 p.m. (contingent upon adequate staffing).
Parking & Directions
William Howard Taft National Historic Site is located at 2038 Auburn Avenue, one block south of Christ Hospital, in Cincinnati, Ohio. Free parking is available in a small lot in front of the Taft Education Center on Auburn Avenue or in a larger lot directly behind the Taft house and Education Center, accessible via Southern Avenue. For information on accessibility, visit the Accessibility page or Contact Us.

Visit the Directions page for guided directions and maps as well as other useful information about your visit or, you can Contact Us directly.


Last updated: February 1, 2021