Operating Hours & Seasons
The Taft Education Center and Taft House
are open to visitors on a limited basis*
*Please scroll down for detailed park reopening guidelines.
Social distancing will be strongly encouraged.

Due to the limited number of guests allowed in the house at one time, it may be necessary for guest to wait for the next available tour if the tour is maxed out. Please plan for this possible limitation/restriction when you visit the site. We appreciate your understanding.


For current information about the novel (new) coronavirus (COVID-19),
please visit the National Park Service Public Health update page.
For information on national operations for the National Park Service,
please visit our Communications page.
---
Phased Expansion of Services
(UPDATED: August 12th, 2020)
In accordance with the State of Ohio Responsible Restart Ohio Plan, The White House Phased Resumption of Services Plan, and Center for Disease Control guidelines, the park will enter Phase 2 of our reopening plan on Wednesday, August 12th.

Here are the important updates to park operations:
Continued Self Guided Tours of the 1st Floor Historic rooms of the Taft Birthplace
Access to 2nd floor exhibits inside of Taft House are opened (self-guided only)
There will be a limit of 15 people allowed inside of the Taft Home at any one time
A modified version of the Jr. Ranger program available
A park staff member will be available to answer questions and provide flow of traffic directions through the house
Temporary park hours remain 9am - 4pm until further notice, allowing staff to deep clean facilities
Eastern National Books sales opened inside of Taft Education Center
The Taft Education Center restrooms, lobby and exhibit are OPEN
The following will remain CLOSED during Phase 2:
The Movie Theater
The Charlie Taft animatronic exhibit
The classroom and public meeting rooms
All visitors are strongly recommended to follow CDC and State of Ohio COVID-19 guidelines, including social distancing of at least six feet and the wearing of cloth face coverings. Please keep this in mind and be respectful of others.

Be advised that the limit of fifteen visitors at a time in the house may lead to a wait before entry. Rangers will provide activities and outdoor programs if this becomes necessary.

The National Park Service and the staff of the William Howard Taft Historic Site welcome you back!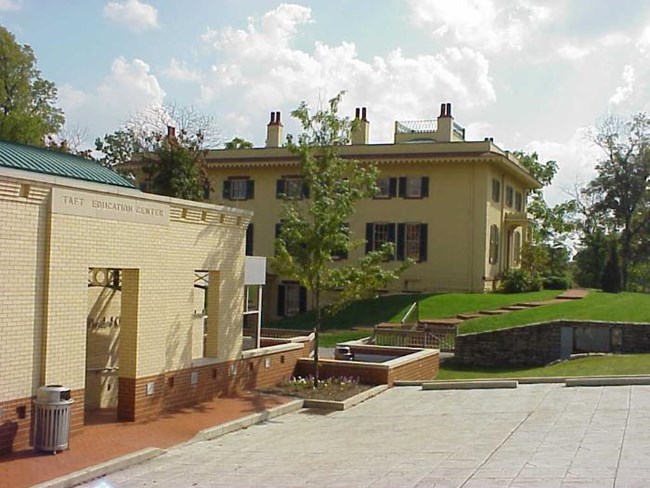 William Howard Taft
Education Center & House
William Howard Taft National HIstoric Site is open seven days a week. The park is closed on the following Federal holidays: January 1st, Thanksgiving Day, and December 25th.


Current Hours of Operation:
Every day - 8:30 a.m. to 4:45 p.m.
Guided Tours of the Taft House will still be every thirty minutes. The last guided tour of the day will be 4:00 p.m. A "mini-tour" will be offered for any late-comers at 4:15 p.m. (contingent upon adequate staffing).
Parking & Directions
William Howard Taft National Historic Site is located at 2038 Auburn Avenue, one block south of Christ Hospital, in Cincinnati, Ohio. Free parking is available in a small lot in front of the Taft Education Center on Auburn Avenue or in a larger lot directly behind the Taft house and Education Center, accessible via Southern Avenue. For information on accessibility, visit the Accessibility page or Contact Us.

Visit the Directions page for guided directions and maps as well as other useful information about your visit or, you can Contact Us directly.


Last updated: August 14, 2020