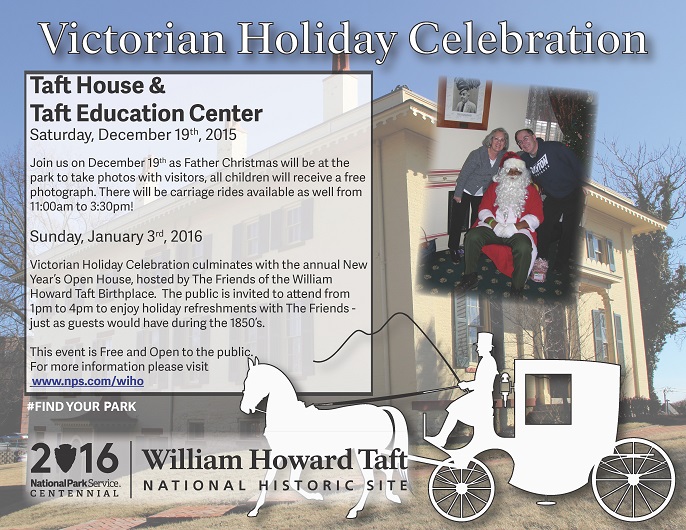 News Release Date:
November 5, 2015
Contact: Reginald Murray, 513-684-3262
Victorian Holiday Celebration at Cincinnati's NPS Site
William Howard Taft National Historic Site located in the Mount Auburn neighborhood will celebrate a Victorian Christmas with free events and daily tours throughout the holiday season. The William Howard Taft Home is the birthplace of our nation's 27th President and 10th Chief' Supreme Court Justice. Beginning on Friday, November 27, the charming historic home where William Howard Taft was born and raised will be decorated beautifully to reflect the mid-Victorian period. 
On Saturday December 19, everyone is invited to join us from 11 a.m. to 3: 30 p.m. for our special Father Christmas event. During this time children and adults will be delighted to learn about the traditions of Christmas and will make holiday crafts to take home with them. Father Christmas will be here taking photos with everyone and all children will receive a free photograph.
Our Victorian Holiday Celebration will culminate on Sunday, January 3, when the annual New Year's Open House will be hosted by The Friends of the William Howard Taft Birthplace. Everyone is invited to visit the Taft House from 1 to 4 p.m. to enjoy holiday refreshments with The Friends—just as guests would have during the 1850's.All events are entirely free and open to the public! 
William Howard Taft National Historic Site is located at 2038 Auburn Avenue and is open from 8 a.m. to 4:15 p.m. year round. We will be closed on Thanksgiving, Christmas, and New Year's Day to enjoy the holiday season with our families. Plan your visit soon!