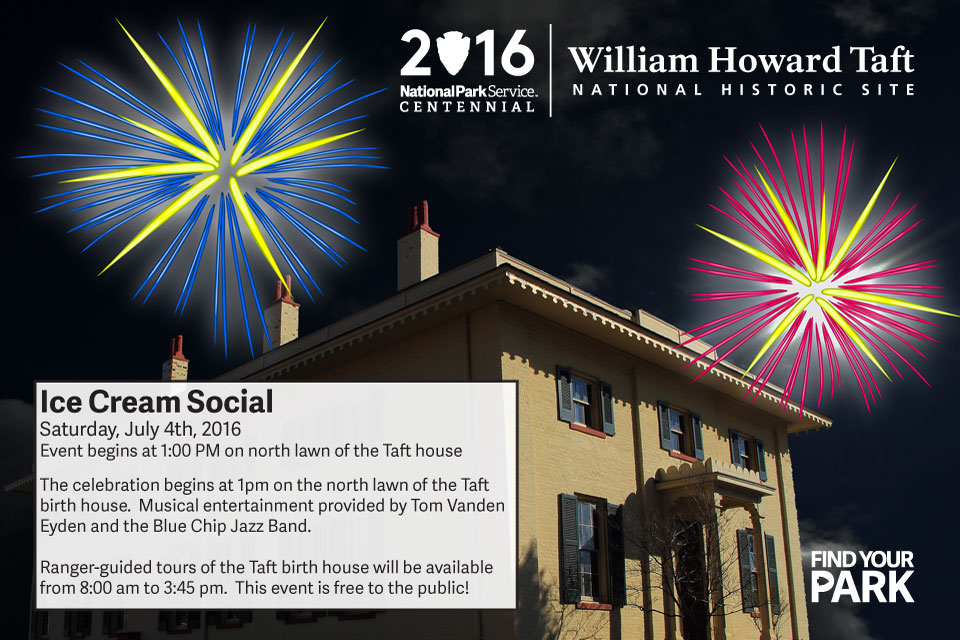 News Release Date:
June 16, 2016
Contact: Kerry Wood, 513-684-3262
On Saturday, July 2nd from 1:00 p.m. to 2:00 p.m., William Howard Taft National Historic Site will host our Annual Ice Cream Social featuring live music and performances by Tom Vanden Eynden and the Blue Chip Jazz Band. The trio group consists of keyboard, clarinet and bass performers. The Friends of William Howard Taft Birthplace will provide a variety of free ice cream during the one hour event. Our holiday celebration will take place on the North lawn of the Taft birthplace and boyhood home –the home of our nation's 27th President and 10th Chief Justice of the United States.
Come join us at the park on July 2nd at 1:00 p.m. and enjoy one hour of free musical performances under the tent. The Blue Chip Jazz Band will perform sing –a-longs, patriotic music, jazz and Dixieland.
Events begin at the Taft Education Center, located at 2048 Auburn Avenue, one block south of the Christ Hospital. Free parking is available in front of the education center and at the parking lot on Southern Avenue. Please call (513) 684-3262 for accessibility information and assistance. A visit to the park includes a free ranger guided tour of William Howard Taft's boyhood home, self-guided exhibits, and an introductory video on Taft's life and career.
Tours will be conducted throughout the day from 8 a.m. to 3:45 p.m. All activities are free and reservations are not required.