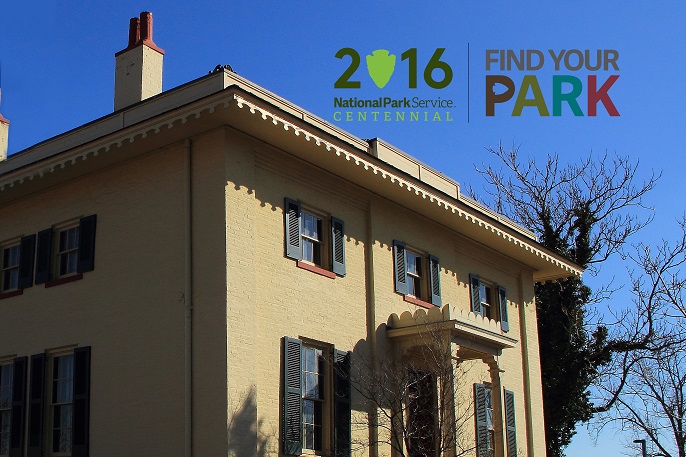 News Release Date:
August 18, 2015
Find Your Park and Celebrate the 99th Birthday of the National Park Service!
Date: Tuesday, August 25th
Time: Tea Session begins at 1:00 pm - Park is open 8:00 am to 4:15 pm
Location: Taft House
Fees: No Fees
William Howard Taft National Historic Site Will Offer a Taft Afternoon Tea and Tours
The National Park Service is turning 99 years old on August 25 and William Howard Taft National Historic Site (NHS) wants you to join the party! Come visit Cincinnati's only national park for a free ranger guided tour of William Howard Taft's boyhood home, self-guided exhibits, and an introductory video on Taft's life and career. Daily tours are conducted at 2038 Auburn Avenue, Cincinnati, Ohio throughout the day from 8:00 a.m. to 4:15 p.m. Reservations are requested for the Taft Afternoon Tea with Patricia Garry, Executive Director of the Cincinnati Community Development Corporation Association and Former Administrative Assistant to Charlie Taft II. Ms. Garry will regale us with stories about Charlie Taft II and the City of Cincinnati. The free event will include light refreshments, and will be held inside the Taft House Garden Room located at 2038 Auburn Avenue. Please call 513-684-3262 to RSVP.
In preparation for next year's big centennial celebration, the National Park Service is inviting everyone to Find Your Park. To encourage people to discover everything a park experience can be, there is a fun list of
99 ways to Find Your Park
. For example, William Howard Taft NHS is a great place to try #9 –Walk through the doorway of a historic house,
#14
–
Earn a Jr. Ranger badge
, and
#99
–
Get ready to celebrate with us in 2016!
Visitors can share their park experiences with others by posting on social media with the hashtag #FindYourPark.
"Birthdays are a time to celebrate and we want everyone to join the party," said William Howard Taft NHS, Superintendent Brenda Waters. "William Howard Taft NHS offers something for everyone, so I invite you to visit and Find Your Park."
On August 25, 1916, President Woodrow Wilson signed legislation to create the National Park Service. Today, there are 408 national parks throughout the country and each one tells an important part of the American story. Some commemorate notable people and achievements, others conserve magnificent landscapes and natural wonders, and all provide a place to have fun and learn. And, on August 25, all national parks will offer free entrance for everyone.
William Howard Taft NHS
was established on December 2, 1969 to preserve the legacy of the 27th President and 10th Chief Justice of the United States. Last year, more than 23,600 park visitors enjoyed the site and added $1.9 million to the local economy and supported 22 area jobs. The mission of the National Park Service also extends beyond park boundaries. Community partnerships help preserve local history and create close-to-home recreational opportunities.