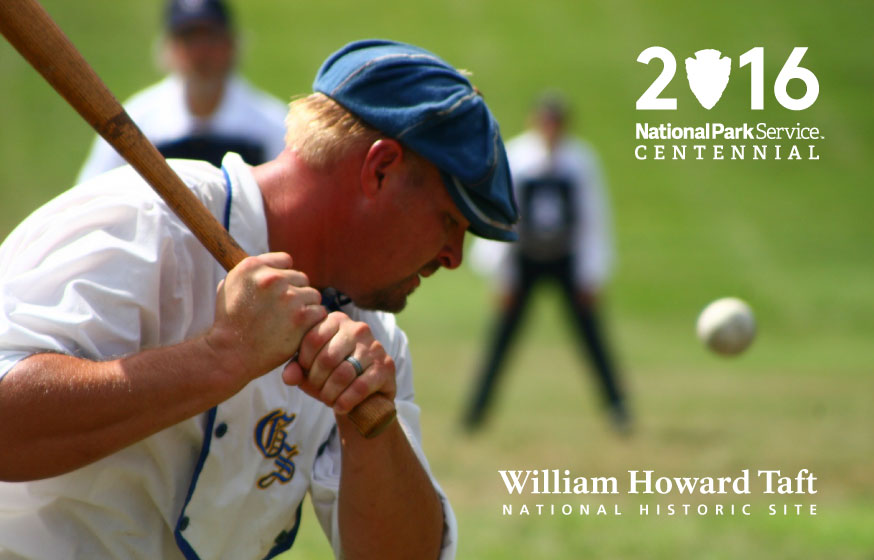 News Release Date:
July 25, 2016
 "Nine Men...Nine Innings...No Gloves...1860's Base ball!"
On Saturday, August 27, 2016 from 2-5 p.m., the National Park Service along with the Friends of William Howard Taft National Historic Site will sponsor a Vintage Base ball Game in celebration of the NPS Centennial Celebration. Two local vintage base ball teams, the Cincinnati Red Stockings and the Cincinnati Buckeyes will play vintage baseball following the rules of 1869. The game will begin at 2 p.m. at the Cincinnati Recreation Commission's Roselawn Field #1.
Rumor has it that Cincinnati's native son, President William Howard Taft, after taking a trip back in time to visit his hometown, will throw out a ceremonial first pitch -- just as he did in 1910 - thus beginning a truly American tradition of Presidents throwing out the first pitch for the start of Major League Baseball Season. Admission is free and the general public is invited to come out and enjoy a lively game of vintage base ball and learn about our 27th U. S. President and the National Park Service.
Plenty of free parking is available at the Roselawn Field, which is located at 2026 Seymour Avenue. Directions: take I-75 to the Seymour­ Paddock Road exit. Tum east to Seymour, tum left. Continue on Seymour to the fourth traffic light (Rhode Island), turn left into the ballpark.