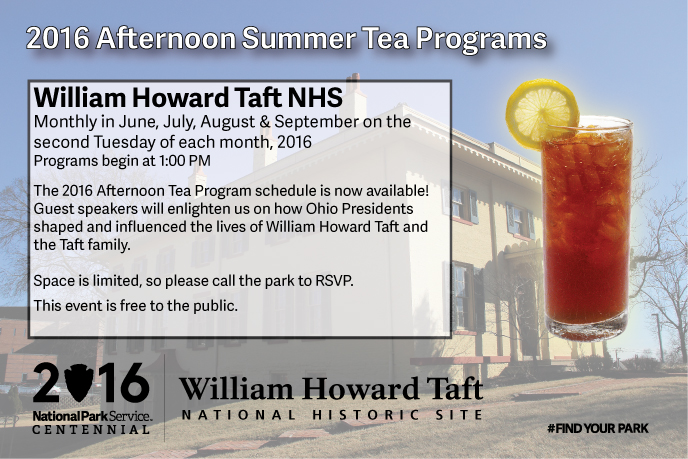 News Release Date:
May 1, 2016
Contact: Kerry Wood, 513-684-3262
William Howard Taft National Historic Site will present four Afternoon Teas focused on Ohio Presidents who influenced and shaped the lives of William Howard Taft and the Taft family. Afternoon Teas will begin at 1:00 pm with featured speaker presenting a 45 minute presentation. A guided tour of the birthplace and boyhood home of our 27th President and 10th Chief Justice of the United States will be available after the presentations.
Afternoon Teas will feature the following speakers:
Tuesday, June 14, 2016: Warren G. Harding, presented by Sheryl Smart Hall, author of Warren G. Harding &the Marion Daily Star and site manager of the Warren G. Harding Home and Memorial in Marion, Ohio
Tuesday, July 12, 2016: Benjamin Harrison, presented by Charles Hyde, President and CEO of the Benjamin Harrison Presidential Site in Indianapolis, Indiana.
Tuesday, August 16, 2016: James A. Garfield, presented by Todd Arrington, Chief of Interpretation and Education and site manager of the James A. Garfield National Historic Site in Mentor, Ohio. Tuesday,
September 13, 2016: Rutherford B. Hayes, presented by Dustin McLochlin, Education Coordinator at the Rutherford B. Hayes Presidential Library and Museum in Fremont, Ohio.
Afternoon Teas will include light refreshments, and will be held inside the Taft House Garden Room located at 2038 Auburn Avenue. Afternoon Teas including presentations and guided tours are free to the general public;however, reservations are requested due to limited space. Please call 513-684-3262 to RSVP.