Public Celebrates Wind Cave National Park's New Land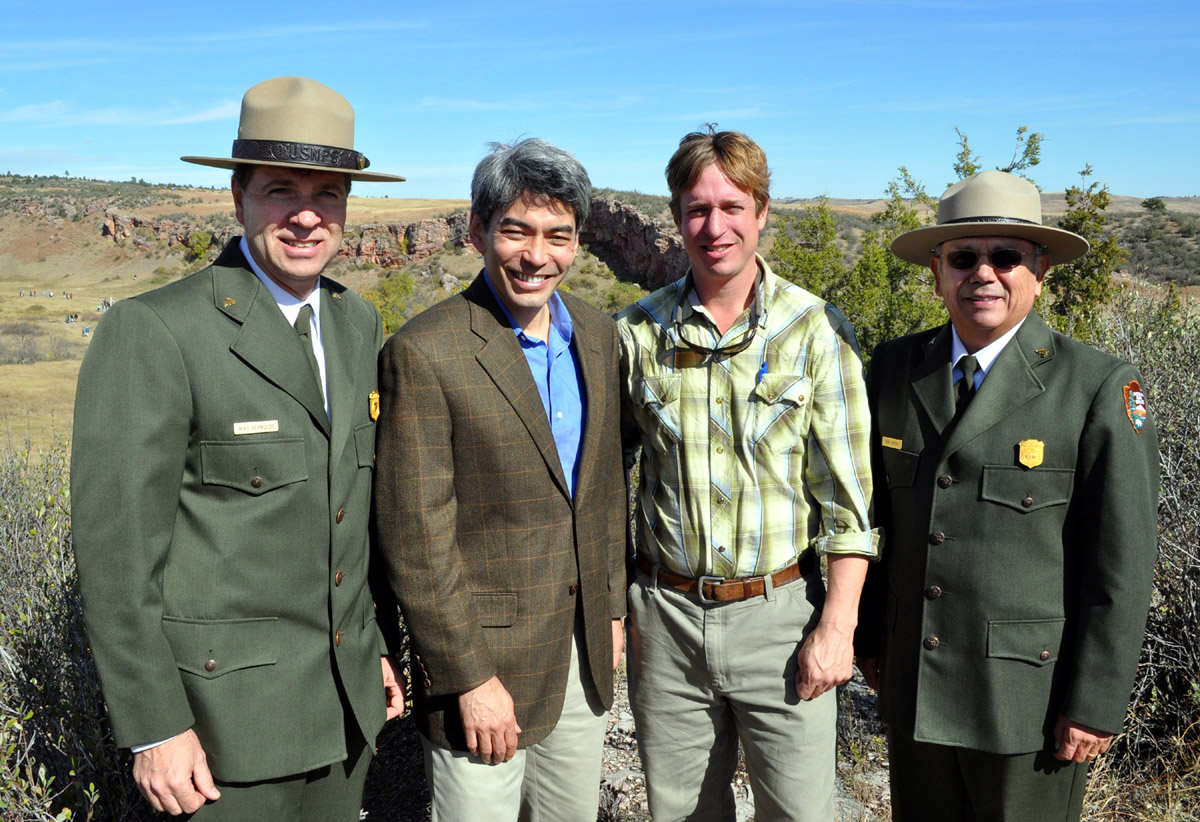 News Release Date:
October 17, 2011
Contact: Tom Farrell, 605-745-1130
WIND CAVE NATIONAL PARK SD - An overflow crowd of neighbors, local residents, and visitors gathered near the historic Sanson homestead in Wind Cave National Park (NP) on Saturday, October 15, to celebrate the acquisition of 5,555 aces of ranchland formerly owned by the Casey family.
Voices of singers and the sound of drums from the Ateyapi Drum Group echoed off the nearby cliffs as the Native American Veterans Association Post 1, Rapid City, S.D. , posted the colors.
Park superintendent Vidal Davila welcomed the crowd of over 300 and reminded them of the history the land around them had witnessed. A thousand-year old buffalo jump could be seen over his shoulder as he talked of the bravery and resourcefulness of early inhabitants.
The National Park Service (NPS) has been working for almost 11 years to acquire this property. The thousand year-old buffalo jump and historic Sanson homestead are among the key resources protected as a result of a recent announcement by U.S. Department of the Interior Secretary Ken Salazar and The Conservation Fund. The Conservation Fund is a nonprofit dedicated to protecting important places across America.
Located just south of Wind Cave NP, the land was bought at auction last year by The Conservation Fund and held until Congress appropriated the necessary funding from the federal Land and Water Conservation Fund this year.
Dan Sakura, Vice President for Government Relations and Director of Real Estate with The Conservation Fund, thanked the NPS and the Casey Family for their hard work and spoke of the value of national parks.
Michael T. Reynolds, Regional Director, Midwest Region, NPS, spoke of the Call to Action to celebrate the 100th Anniversary of the NPS in 2016. The Call to Action is an initiative to revive the parks to be relevant and accountable to the people. Regional Director Reynolds talked of the dream of having an America Indian interpretive ranger at the buffalo jump using modern technology to reach out to classroom audiences around the nation.
After the program, visitors were free to explore the buffalo jump. It had never been open to the public before.
A planning process to determine visitor experiences and uses of the new land begins this fall and is expected to be completed by the end of next summer. Open house events for the new land will be held during the planning process to acquaint the public with the resource. Otherwise, until the plan is complete and visitor services in place, the land will be closed to public use.
For more information about the Casey Land, Sanson Ranch, or Buffalo Jump, including photos of the land and dedication ceremony, click here.
Last updated: April 10, 2015