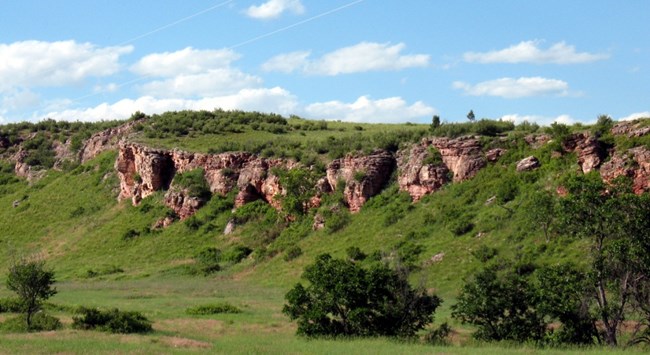 On October 6, 2011 Secretary of the Interior Ken Salazar announced that the National Park Service has acquired 5,555 acres of former ranchland, including a thousand-year-old buffalo jump and an historic homestead, that will become part of South Dakota's Wind Cave National Park. "The addition of this historic ranch to the park will help ensure that people for generations to come can come to know and love this treasured landscape and have the opportunity to learn about the indigenous peoples of South Dakota," said Secretary Salazar."
President Theodore Roosevelt set aside Wind Cave as the country's eighth national park in 1903. Considered a sacred place by the Lakota, Wind Cave is one of the world's longest and most complex caves, known for its outstanding display of boxwork, an unusual cave formation composed of thin calcite fins resembling honeycombs. It was the first cave ever designated as a national park.

On the surface, the park now features more than 33,000 acres of mixed-grass prairie and ponderosa pine forest that provides important habitat for bison, elk, pronghorn, mule deer, coyotes, and prairie dogs. It is home to one of America's most ecologically-significant bison herds, which dates back to bison relocated to the park from the Bronx Zoo and Yellowstone in the early 20th century.

Native Americans hunted buffalo on the newly acquired land over a thousand years ago, driving them over buffalo jumps, or cliffs. Tipi rings provide additional evidence of Native American use of the area.