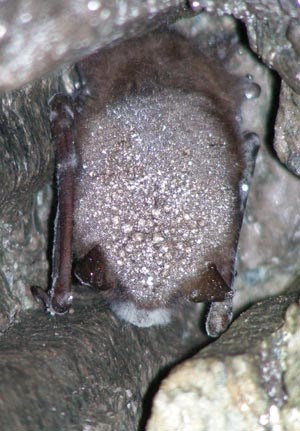 A disease called White-Nose Syndrome (WNS) is spreading through the United States, killing bat populations. Although this disease does not bother humans it is estimated to have killed over 5 million bats since its discovery in New York state in 2006. Humans may transmit the fungal spores on shoes or clothing worn in caves in affected areas.
Are you wearing shoes or clothing that have been in a cave?
If "No" enjoy the tour!
If "Yes" please:
Change into shoes or clothing that have not been in a cave, or;
Ask a ranger about decontamination procedures, then;
Enjoy the tour!
NOTE: Clothing worn on Jewel Cave's Scenic or Discovery tours may be worn on Wind Cave Garden of Eden, Natural Entrance, & Fairgrounds tours. All shoes worn in other caves, including Jewel Cave, must be decontaminated before being worn into Wind Cave.

For further questions, ask at the visitor center or call 605.745.4600.
Learn More About WNS
The fungus seems to prefer cold temperatures and so it strikes bats when they are most vulnerable-during hibernation. The fungus causes affected bats to wake and use up energy reserves long before spring comes, resulting in death by starvation or freezing. WNS was first identified in a cave in New York State in 2006, and has since spread southward and westward and has now been found in Washington state. Its appearance in other states may only be a matter of time. More WNS information is available through the following links: