Candlelight Tour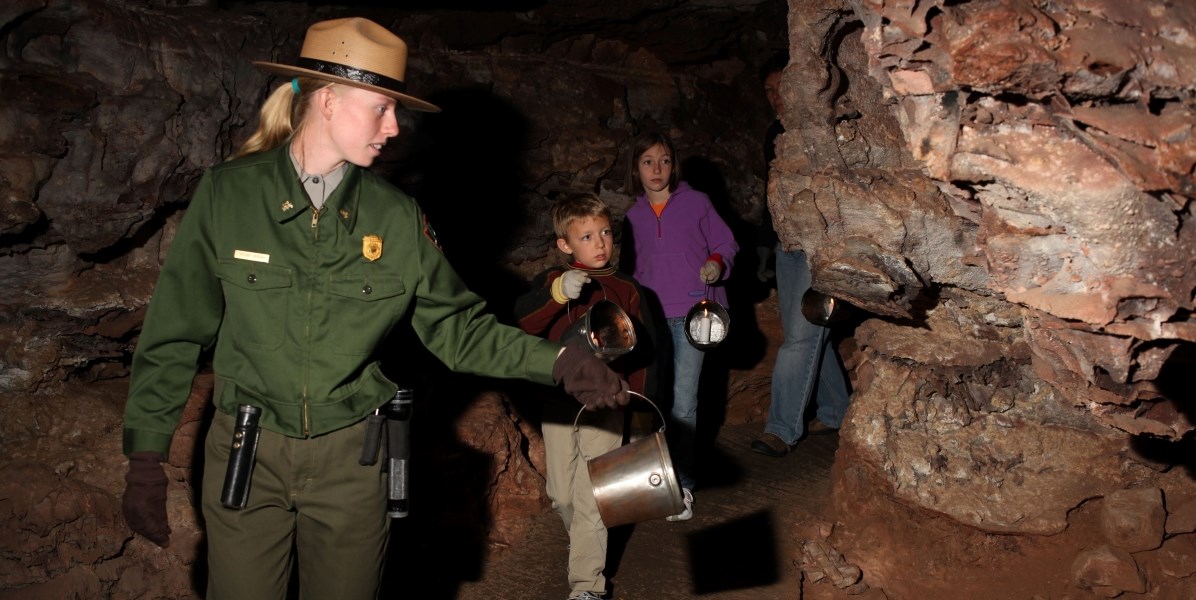 Experience the cave by candlelight! See the way the earliest explorers of Wind Cave saw the cave by candlelight. This tour takes place in a less developed, unlit section of the cave. Each participant will carry a candle bucket. The tour is limited to 10 people and the minimum age is 8.

Candlelight Tour tickets can only be purchased in advance through www.recreation.gov from 3-120 days before the tour.

View Tour Schedule
Required
Long pants such as jeans. Pants must not have any holes in them.
Long sleeved shirt or jacket.
Fully enclosed sturdy, lace-up boots or shoes with non-slip soles. Hiking boots are recommended. Five-fingered toe shoes, cowboy boots, and sandals including Keenes, Chacos, and Merrills are not allowed.
Clothing worn in Jewel Cave or any other cave is not permitted on this tour to prevent the spread of White-Nose Syndrome.
Features
This strenuous tour covers 2/3 mile of rugged trail and lasts 2 hours.
The tour enters and exits the cave by elevator.
This tour is limited to 10 people and the minimum age is 8. All participants must be able to carry their own candle bucket.
For safety reasons, photography is not permitted on this tour and cameras and phones are not allowed.
Reservations are required. We begin taking reservations one month before the tour date.
Reservations may only be made by telephone: (605) 745-4600
Safety and Conservation

Cave trails are dimly lit and trail surfaces may be uneven, wet, or slippery. Most of this tour is in an unlit and undeveloped part of the cave. Some of the cave ceilings are low and some passages have a steep grade, requiring some bending or stooping.

DUE TO THE STRENUOUS NATURE OF THIS TOUR, PERSONS WITH HEART CONDITIONS, KNEE, NECK, OR BACK PROBLEMS, VISON OR MOBILITY ISSUES, BALANCE PROBLEMS, OR OTHER PHYSICAL LIMITATIONS SHOULD RECONSIDER.

Please stay with the tour group. For the protection of the cave, please do not touch cave formations, remove formations or cave rocks, or step off the trail.

There are no restrooms in the cave. Pets are not permitted in the cave.

Eating, drinking, smoking, chewing gum or tobacco are not allowed in the cave.
Fees
Visit the
Fees & Passes page
for tour prices.
Note: Interagency Annual Park Pass is not applicable for these fees.
Last updated: April 12, 2022