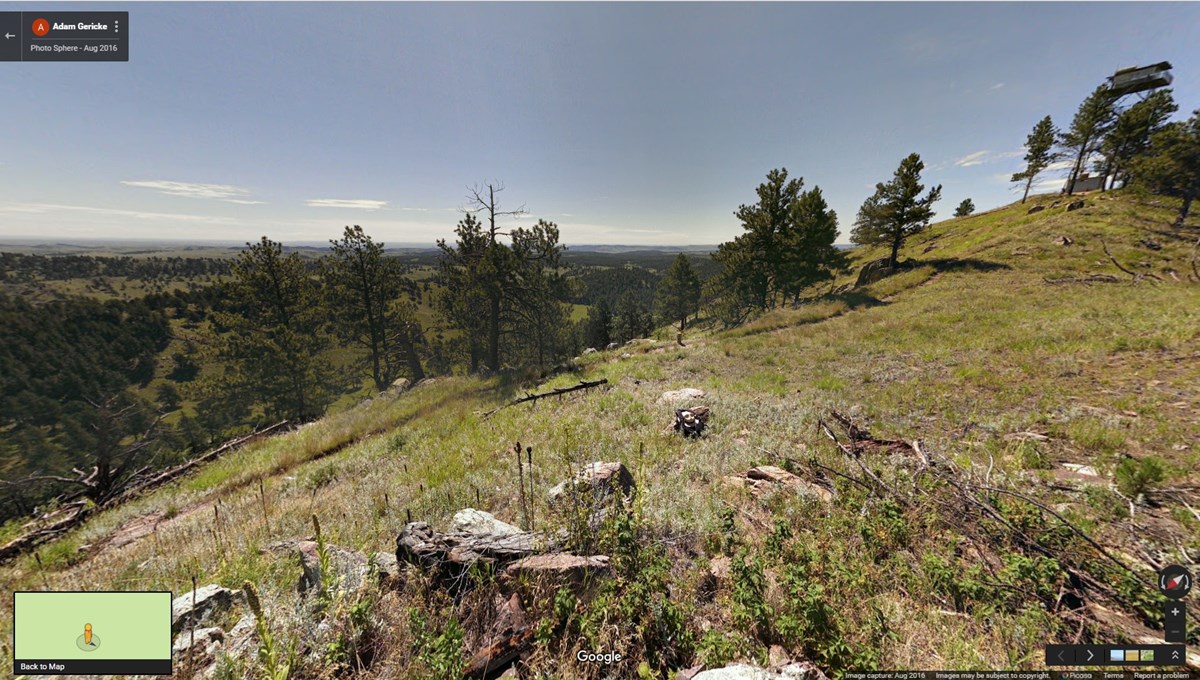 Area Description: This spot on the trail is where you get the closest to a 360 degree view of the surrounding area. To the northwest the heart of the Black Hills! To the east the heart of Wind Cave all the way to the edge of the Black Hills. On a clear day you can see the beginnings of the Badlands.
Visible Vegetation: Common Mullein, Raspberry, Poison Ivy, Currant, Buffalo Grass
Possible Animal Habitat:
Mammals: Bison, Elk, Mule Deer, White-tailed Deer, Coyote, Mountain Lion, Porcupine,
Birds: Mourning Dove, Northern Flicker, Western Wood-peewee, Black-capped Chickadee, Red-breasted Nuthatch, American Robin, Audubon's Warbler, Western Tanager, Spotted Towhee, Chipping Sparrow, Western Meadowlark
Geology: The Rankin Ridge quartzite is ancient metamorphic schist and one of the oldest in the Black Hills. It is over 2 billion years old. Mixed in are various kinds of mica. The clear types were once used as oven windows.
For Educators:
Thematic Information: Wind Cave National Park is home to a wide variety of animals. One of the most important animals we have in the park is the prairie dog. These small rodents play a fundamental role in many other animals' lives. Whether creating homes or providing food, these animals are what is referred to as a keystone species. In the valley, to the west, is one of the park's many prairie dog colonies. On this particular day, a large heard of bison was hanging out enjoying the fresh grass of the dog town in the valley to the southwest.
Recommended Student Activity:
What types of animals would live in an abandoned prairie dog hole?
Rattlesnakes, Black-footed Ferrets, Burrowing Owls, Mice, Tiger Salamanders, Spiders, Rabbits, Badgers (they will dig it out bigger)
Why would bison like to eat the grass in a prairie dog town?
Prairie dogs keep the grass clipped fairly short so they can see predators coming. This means the grass is young grass which is both tastier and more nutritious to the bison.