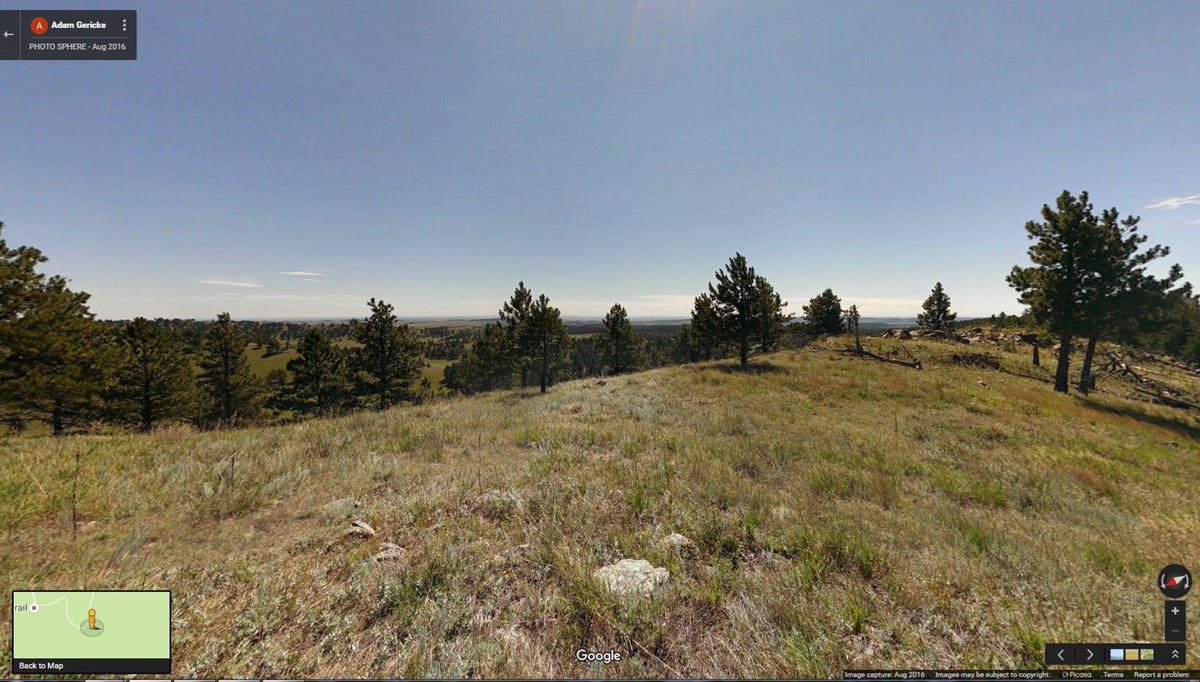 Area Description: This is just a few steps off the trail and one of the last places you can see down both sides of the ridge. A good spot to take one last look before you drop down into the forest. On the next ridge over to the southwest, you can see remnants of a fire from 6 years ago. With the trees thinned out, there will be more grass for the bison!
Visible Vegetation: Ponderosa Pine, Poison Ivy, Fringed Sagewort, Cudweed Sagewort, Big Bluestem, Curlycup Gumweed, Little Bluestem
Possible Animal Habitat:
Mammals: Bison, Elk, Mule Deer, White-tailed Deer, Coyote, Mountain Lion, Porcupine,
Birds: Mourning Dove, Hairy Woodpecker, Black-capped Chickadee, Ruby-crowned Kinglet, American Robin, Audubon's Warbler, Lark Sparrow, Spotted Towhee, Chipping Sparrow, Brown-headed Cowbird, Red Crossbill
Geology: The Rankin Ridge quartzite is ancient metamorphic schist and one of the oldest in the Black Hills. It is over 2 billion years old. Mixed in are various kinds of mica. The clear types were once used as oven windows.
For Educators:
Thematic Information: This is the last stop on this virtual tour, so remember if you are planning on hiking here, there are a few safety concerns. Heat during the summer so be sure to bring plenty of water. Also bison are dangerous to approach and rattlesnakes love to hang out around rocks, but can be found elsewhere as well. Cactus can puncture thin-soled shoes so be careful where you step and/or sit! There is also a lot of poison ivy along most of the trails here at Wind Cave so remember "leaves of three, let it be".
Recommended Student Activity:
Brainstorm with kids what they would need to bring on a hike.
Good hiking shoes, water, jacket (weather dependent), etc
Brainstorm with kids what are some of the best reasons to go hiking.
Exercise, fresh air, learning new things and having new experiences
Brainstorm with kids what some of the dangers might be.
Heat, cactus, bison, snakes, poison ivy
Have kids go back through the stations, pick a favorite, and explore it a little longer. Kids can either prepare to list their favorite things about that spot, or prepare a small talk on what they see, or right a paragraph describing why they picked that spot.