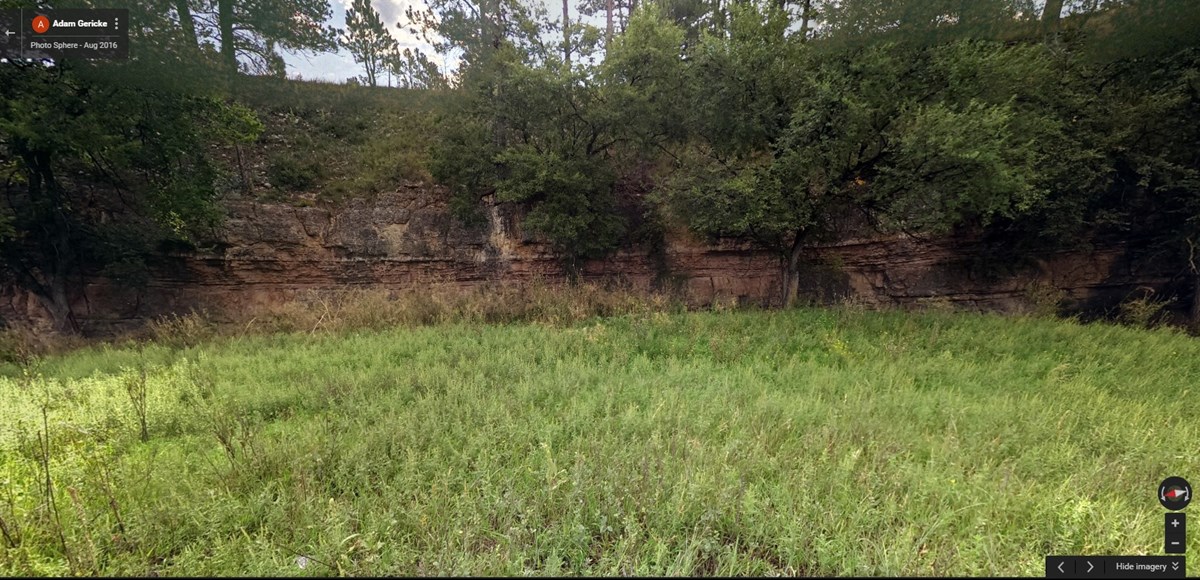 Area Description: These beautifully colored limestone cliffs pool moisture to keep the ground damp for a dense collection of plant species.
Visible Vegetation: Snowberry, Common Mullein, Ragweed, Box Elder
Possible Animal Habitat:
Mammals: Bison, Prairie Dogs, Black-footed Ferrets, Elk, Badger,
Birds: Mourning Dove, Northern Flicker, Black-billed Magpie, Eastern Kingbird, House Wren, Yellow Warbler, Yellow-breasted Chat, Spotted Towhee, Western Meadowlark, Brown-headed Cowbird, Brewer's Blackbird
Geology: Paha Sapa Limestone forms the canyon walls. This layer is often called the Madison Formation in other parts of the country. Formed around 330 million years ago, this limestone is the same layer that Wind Cave is located in. The bottom of the canyon is a floodplain that consists of unconsolidated gravel. This wall exemplifies two qualities of this layer of rock. One is its various colors ranging from tan to yellow to this reddish brown. This wall also shows the clear layering of this limestone.
For Educators:
Thematic Information: Seasonal Streams like this one provide, not only, an important water source for animals but lead to a wider variety of plant species and a more assorted selection of food sources.
Recommended Student Activity:
Why is diversity important?
It creates a more robust ecosystem more able to survive times of stress. (drought, disease)