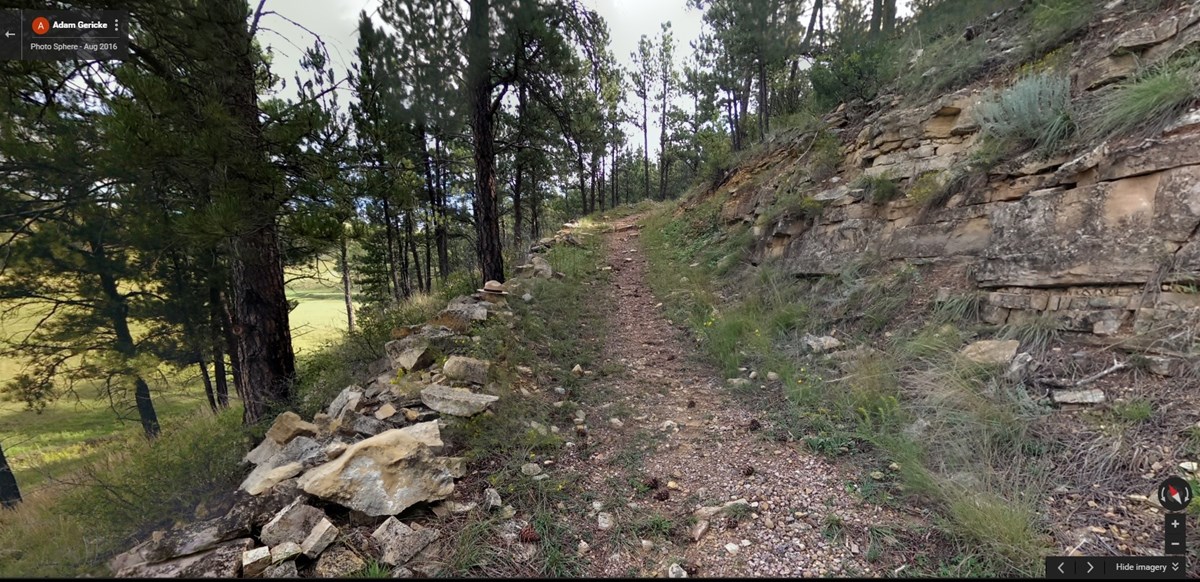 Area Description: This trail is one of the most underrated of the park. Boasting scenic canyon walls and a small prairie dog town, this path has something for everyone. As you descend this old road, you drop down into the valley and continue all the way to the western park boundary. This trail rewards those who stay til the end.
Visible Vegetation: Fringed Sagewort, Goldenrod, Snowberry, Currant, Poison Ivy, Curlycup Gumweed
Possible Animal Habitat:
Mammals: Bison, Prairie Dogs, Black-footed Ferrets, Elk, Badger,
Birds: Mourning Dove, Western Wood-peewee, Dusky Flycatcher, Cordilleran Flycatcher, Eastern Kingbird, Violet-green Swallow, Red-breasted Nuthatch, House Wren, Yellow Warbler, Spotted Towhee, Chipping Sparrow, Vesper Sparrow, Indigo Bunting, Western Meadowlark, Brown-headed Cowbird, American Goldfinch
Geology: The road's edge is made out of stacked blocks of Paha Sapa Limestone. This layer also forms the canyon walls. This layer is often called the Madison Formation in other parts of the country. Formed around 330 million years ago, this limestone is the same layer that Wind Cave is located in. The bottom of the canyon is an floodplain that consists of unconsolidated gravel.
For Educators:
Thematic Information: The Cold Brook Canyon Trail travels through a varied ecosystem that really exemplifies the diversity of Wind Cave's wildlife population. A prescribed fire in 2015 also adds to the changing nature of this area. Loosely following a seasonal stream, this trail winds through a scenic canyon and traverses a small prairie dog town. These photo spheres will demonstrate and discuss the various animals that call this canyon home.
Recommended Student Activity:
Have students list the various habitats that they see.
Ponderosa pine forest, mixed-grass prairie, riparian area around seasonal stream
Predict what different animals will we see in the varied habitats?
Answers will vary