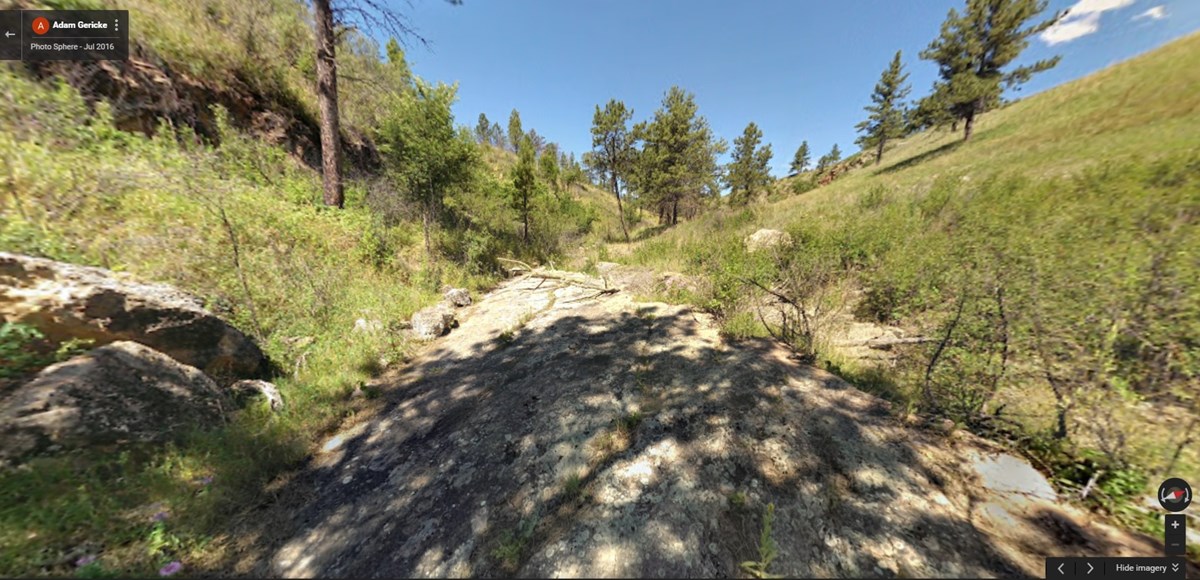 Area Description: Don't look at the obvious. The colors of the prairie go beyond the green of the grass and trees. Lichens on the rocks put on a show that can make a rainbow blush. Ranging from vivid blues to neon greens to shocking oranges and vibrant reds, these underrated denizens of the prairie only thrive in the cleanest of air.
Visible Vegetation: Common Mullein, Wild Bergamot, Box Elder, Ponderosa Pine, Poison Ivy, Snowberry
Possible Animal Habitat:
Mammals: Bison, Elk, Mule Deer, White-tailed Deer, Coyote, Mountain Lion, Hayden's Shrew, Red Squirrel, Porcupine
Birds: Mourning Dove, American Crow, Rock Wren, House Wren, Mountain Bluebird, Spotted Towhee, Chipping Sparrow, Western Meadowlark, Brewer's Blackbird, American Goldfinch
Geology: On the ground is a wonderful example of the Minnelusa Formation. This formation consists of alternating bands of limestone, sandstone, and shale. It formed approximately 320 million years ago.
For Educators:
Thematic Information: Though this area burned the year before in some areas the effects are hardly noticeable. This rock is covered with lichen. Lichen just recently was discovered to be a symbiotic relationship between an algae, a fungus, and a bacteria. http://www.nytimes.com/2016/07/22/science/lichen-symbiotic-relationship.html?_r=0
Lichen are sensitive to air pollution especially sulphur dioxide and are after thought of as an indicator of air quality. Wind Cave is classified as a Class 1 air shed.
Recommended Student Activity:
What are some ways that humans affect air quality?