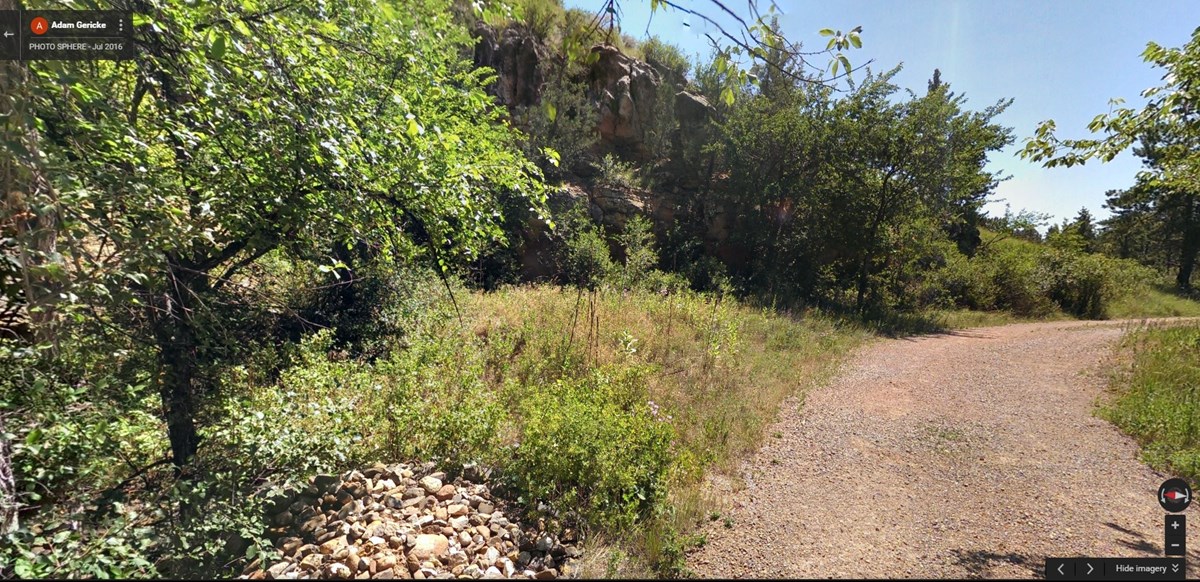 Area Description: This is one of the many points on the trail that crosses the (currently dry) streambed. While water may not be flowing on the surface, things are happening underground. In this fractured landscape, water has many paths to flow on its way to the park's well.
Visible Vegetation: Box Elder
Possible Animal Habitat:
Mammals Bison, Mule Deer, White-tailed Deer, Coyote, Mountain Lion, Hayden's Shrew, Porcupine
Birds: Common Nighthawk, Western Wood-peewee, American Crow, Black-capped Chickadee, Red-breasted Nuthatch, House Wren, Mountain Bluebird, American Robin, Yellow-breasted Chat, Western Tanager, Spotted Towhee, Chipping Sparrow, Lark Sparrow, Brown-headed Cowbird
Geology: To the north of the trail you will see outcroppings of the Minnelusa Formation. This formation consists of alternating bands of limestone, sandstone, and shale. It formed approximately 320 million years ago.
For Educators:
Thematic Information: Rainfall is critical to fire management. At this point in the year (2016) we had received 10.84" of rainfall. Our 65 year January to July average is 12.87" so we remain about 2" below our average. This affects all vegetation as the water content of the plant life is one of the primary factors in fire danger.
Recommended Student Activity:
Lead discussion on rain fall and the effect of climate change. Here are some lesson plans.
Photosynthesis vs. Respiration