Road Conditions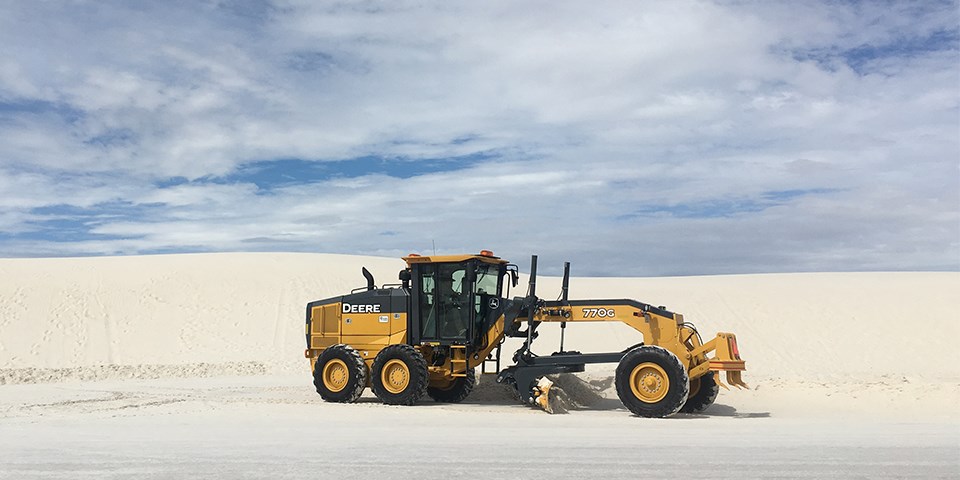 Dunes Drive is an eight-mile (13 km) scenic drive that leads from the visitor center into the heart of the gypsum dunefield. The 16-mile (26km) round-trip drive takes approximately 45 minutes.
Road Closures
During periods of heavy rain or snow, Dunes Drive will be very slick with water, snow, and/or ice, and visibility may be very poor.

Highway 70 and Highway 54 may also close due to weather or missile tests. Check the New Mexico roads website for more information on road conditions throughout New Mexico.
Driving on Dunes Drive
The first five miles of Dunes Drive are paved and the last three miles are a hard-packed gypsum sand road. The road is suitable for cars, motorcycles, recreational vehicles, and buses. This sand gypsum road will frequently have a rough "washboard" surface, potholes, and sand drifts. Learn more about driving Dunes Drive.
Bicycling on Dunes Drive
Bicycling at White Sands is truly a unique experience—nowhere else in the world can you ride a bike on a hard-packed gypsum sand road through the heart of an immense gypsum dunefield! This distinctive experience requires one to be a prepared and alert cyclist. Learn more about bicycling on Dunes Drive.
Last updated: May 10, 2021