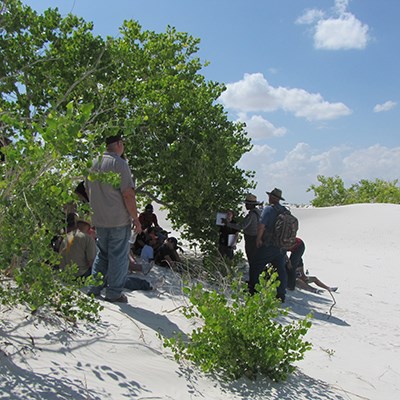 Hike Smart! Learn how to "Hike Smart" with a ranger this summer!
Every Saturday at 5 pm, May 27 through September 2, 2013
Hike Smart is a ranger lead program for both adults and children at White Sands NM this summer. The program is about how to keep yourself as well as the plants and animals whose home you will be traveling through safe.
It is important to know how to explore deserts safely. Hiking is more fun if we are prepared. This program is based on scenarios that will help you learn how to dress, what to bring, basic map and compass use, and outdoor awareness skills. This is an hour long outdoor class.
**Please note that this is not the same as our Junior Ranger program. Children do not earn a badge or patch. For children who would like to earn a badge or patch, the Junior Ranger booklet can be obtained for free at the visitor center desk.
Where: Dune Life Nature Trail - Meet at trailhead
For: Adults and children.
Fee: Program is free; monument entrance fees apply
Bring: Water, hat, sunscreen