Crafty Kids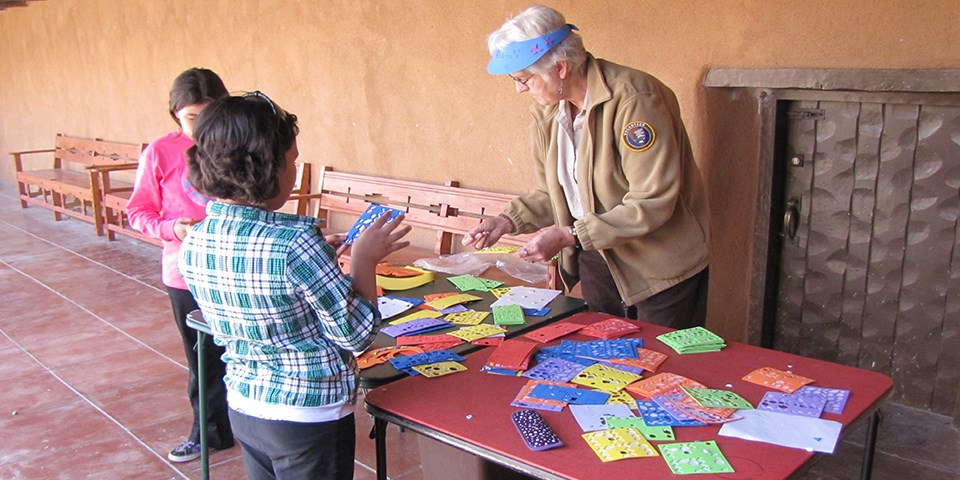 Have fun getting your hands involved while learning about White Sands! Kids will use their imagination to fashion a craft while listening to a ranger-led interpretive program. Rangers will share surprising facts about the creepy crawlers, amazing adapters, and out-of-this-world geology of White Sands while guiding kids through a take-home craft project.
Targeted age range is 6-10 years old. Parents are welcome to stay and participate in the program.
When
Offered on specific days at 2 p.m. during spring, winter and Thanksgiving school breaks.
2016 Crafty Kids Schedule
March 13 through March 26, 2016 - Everyday at 2 p.m.

November 20 through November 26, 2016 - Everyday at 2 p.m.

December 18 through December 24, 2016 and December 26 through December 31, 2016 - Everyday at 2 p.m.(Closed December 25, 2016)
Activities
Download Crafty Kid activity sheets that you can do at home.
Reservations
Reservations are not required or permitted.
Where
The visitor center courtyard. In the case of inclement weather, the program may be moved into the visitor center.
Cost
Program is free.
Program length
30 minutes
Fitness
This program requires children to stand for approximately 30 minutes while they complete their craft activity. Seating may be provided upon request.
Accessibility
The visitor center and the courtyard are wheelchair and stroller accessible.
Service animals are allowed in all monument facilities open to the general public.
Restrooms
Public restrooms are available outside the visitor center area.
Seating
Seating is available in the courtyard.
Pets
Pets are not allowed in the visitor center or the courtyard.
Large groups
Seating is limited. Please be considerate of other park visitors. Contact us to inquire about a large group reservation.
Last updated: August 25, 2016