Backcountry Camping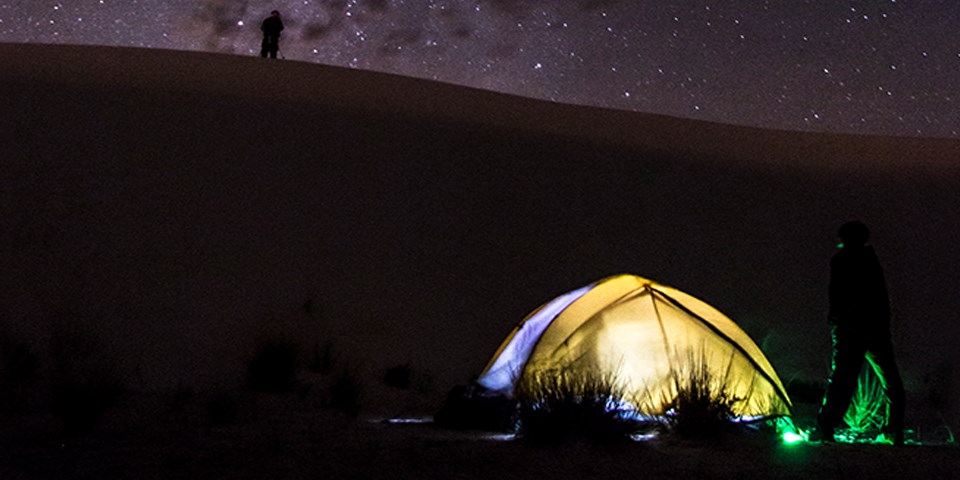 Backcountry camping is currently closed due to rehabilitation of camping sites.
No date has been determined for its reopening.

White Sands National Park offers the opportunity to backcountry camp among the glistening gypsum dunes and under the star-studded night sky. Backcountry camping in the park is a truly an amazing and memorable experience.
The key to having a fun and exciting experience hiking and camping at the park takes preparation and common sense. Deserts have unique hazards. Your safety is your responsibility.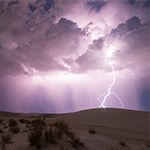 Weather
Be prepared for rapidly changing weather conditions. During the summer months, daytime temperatures can exceed 100°F (38°C) and drop to approximately 65°F (18°C) at night. It is recommended that you do not start a hike if the temperature is at or above 85°F (30°C).
During the summer, thunderstorms can move rapidly into the area. Tents will not protect you from lightning.
In winter, nighttime temperatures frequently drop below freezing. The daily temperature difference can vary from 30°F to 60°F (-1°C to 15°C), especially once the sun sets.
Spring is usually very windy. On very windy days, white-out conditions can result from blowing sand and dust.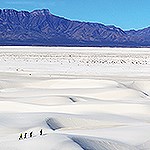 GPS Unreliability
Occasionally GPS signals can be unreliable in the park. Please make sure to have an alternative form of navigation on you and don't solely rely on your GPS. Keep a map and compass on you and always look around for landmarks.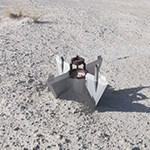 Unexploded Ordnance
We are surrounded by an active missile range. From time to time, debris from missile tests falls into the park and is buried by sand. If you see any strange objects, do not touch them as they may still be able to detonate. Make a note of their location and tell a ranger so that appropriate personnel may remove the object in question.


Last updated: September 20, 2022