Commercial Filming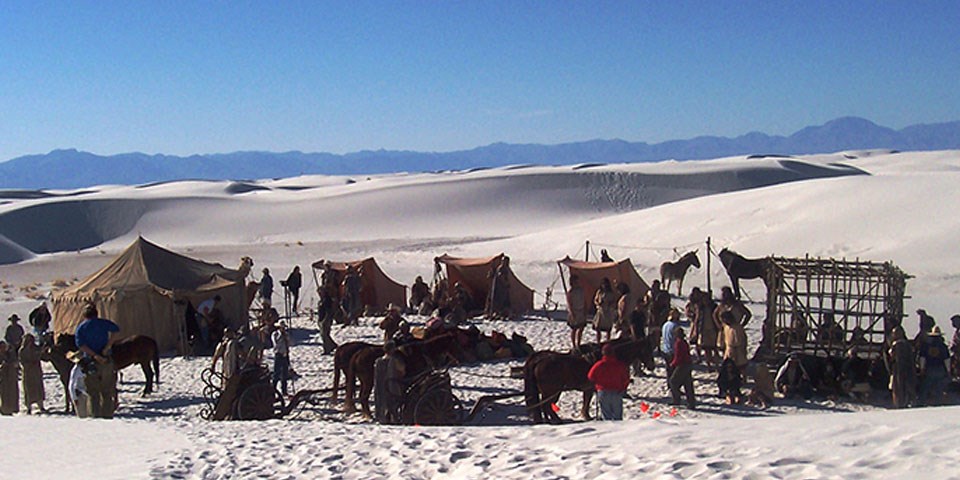 Towering mountains, spectacular white dunes, crystal blue skies, stunning sunsets, and magical moonlit nights—all of these unique features form the amazing landscape at White Sands National Monument. Half a million visitors from all over the world enjoy this beautiful place every year. If you watch TV, it is likely that you have seen White Sands! Hollywood has filmed more than 20 major movies here since 1950. Hundreds of commercials, music videos, TV shows, and documentaries have also been filmed here. Researchers from all over the world come here to investigate the unusual animals and geology here.
History of Filming

Since the early days of film on the silver screen, national parks have been popular destinations for photographers, videographers, and cinematographers. The rolling bright white sand dunes of White Sands National Monument have set the scene for westerns, science fiction, and apocalyptic films. They have also provided a spectacular entourage for still photography of dawn and dusk, as well as for commercials featuring Rolls Royce, the Anheuser-Busch Clydesdales, Energizer Bunny, and Marlboro Man. Well known directors Steven Spielberg, Transformers, and Harold Ramus,Year One; actors Denzel Washington, Book of Eli,and Willem Defoe, White Sands: The Movie; and music performers Boyz II Men, Water Runs Dry, and Sara Evans, I Could Not Ask for More, have all spent time at White Sands capturing the dunes in their creative work.
Read more about the history of commercial filming at White Sands by downloading our PDF.
Last updated: September 15, 2016