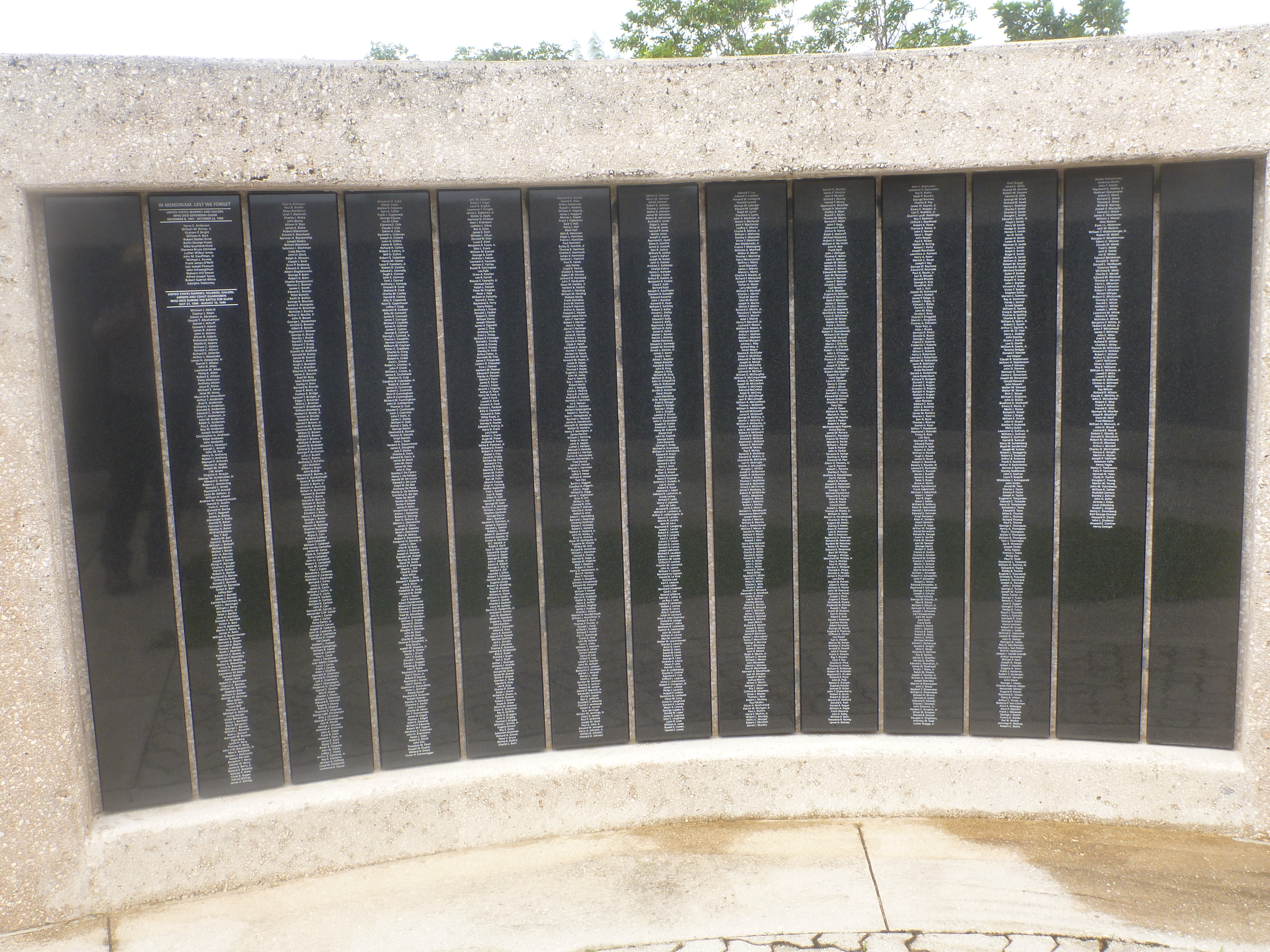 News Release Date:
January 13, 2015
Contact: Rose Manibusan, Chief of Interpretation, 671-477-7278 Ext 1011
War in the Pacific National Historical Park and the Office of Congresswoman Madeleine Bordallo are pleased to announce a Rededication Ceremony at the Asan Bay Overlook Memorial Wall,Friday, January 16, 2015, at10 am. The Memorial Wall has undergone an extensive rehabilitation, including replacement of 103 panels with 17,771 names etched into black granite. The names are of those who died or suffered during the occupation and Liberation of Guam.
The redesign of the Memorial Wall provides space for the corrected misspellings and missing names. The wall now features the names of the American servicemen who died defending the island in 1941-1942, those who liberated the island in 1944, along with the revised names of the people of Guam who died or suffered atrocities during the war years on Guam.
Superintendent Jim Richardson states, "We welcome the people of Guam to the rededication ceremony to honor our fallen dead and thank the office of Madeleine Bordallo for hosting this event with us. We would also like to thank park staff, volunteers, and the Junior Rangers, our special young stewards, who refurbished the bronze sculptured bas relief panels that depict touching scenes of the war experience on Guam."
The official certified list of names of the people of Guam was provided by the former office of Congressman Robert Underwood and the offices of the Governor and Congresswoman Madeleine Bordallo. Congresswoman Bordallo stated,"I commend Superintendent Richardson and his staff for their work in completing the renovation phase of this memorial. This memorial honors the memory of the people of Guam who endured enemy occupation during World War II as well as the liberators who sacrificed on our behalf. I invite the people of Guam to this fitting tribute to ensure that the stories and the sacrifices of our island's greatest generation are never forgotten."
The public is invited to attend the rededication ceremony. Overflow parking will be at Top o' the Mar, with a complimentary shuttle to the Asan Bay Overlook. In addition, paper and pencils for rubbing etched names will be available. Refreshments will be served.
Asan Bay Overlook, at the top of Route 6, Nimitz Hill, is open daily from 8 am –5 pm. For more information about the Asan Bay Overlook Memorial Wall, please visit https://www.nps.gov/wapa/planyourvisit/asan-bay-overlook.htm or call 333-4051.
–NPS –