Lesson Plans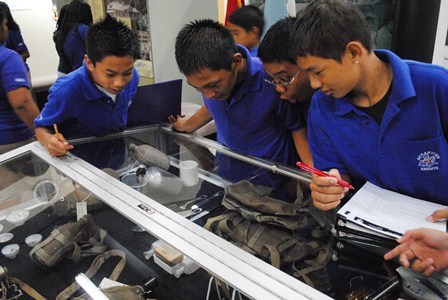 War in the Pacific National Historical Park is your outdoor classroom to discover!
Teachers of all subjects are encouraged to submit lesson plans relating to World War II history as well as the natural and scenic objects at War in the Pacific National Historical Park. Contact the Education Specialist to find out how you can be a Lead Teacher volunteer for the park by designing lessons that can be utilized by educators all over the island.
Educators on Guam have already put together several lesson plans that can be used in the park units and the T. Stell Newman Visitor Center. These lesson plans are tools to help your students make the most of their trip, and are also models to create your own for future visits.
History: Honor the people of the past by learning about the battles of the Pacific Theater of World War II. These lesson plans were created by enthusiastic teachers and educators on Guam.
Powers of Persuasion
Video Guides, Handouts, Worksheets, and Lesson Plan
Primary Sources
Research Project
Research Project Presentation Guidelines, Interview Guide, Unit Outline, Rubrics, Website Guide
Selling the War
Strategizing the Recapture of Guam
Video Guides, Lesson Plan, Game, Answer Guides
Surviving the War
The Cost of War
Timelines
Timelines Lesson Plan and Presentation, Lesson, Timeline, and Writing Rubrics
Unsung Heroes
Valor in the Pacific
Valor in the Pacific Lesson Plan, Picture Sheet, Score Sheet, Word Sheet
Voices of the Pacific
Voices of the Pacific Guidelines, Handouts, Rubric, Lesson Plan
We are at War Decimals
We are at War Decimals Lesson Plan (please email us for this lesson plan)
Reef Health Monitoring
Keep Guam Beautiful
Science: The better we understand the environment around us, the better we can manage and care for it. National Park Service staff worked with a teacher, two undergraduate students, and a marine science graduate student to develop the following lesson plans for your students! See more here.
Chamorro Village Role-playing
Chamorro Village Role-playing Lesson Plan
Photoquadrats on a Transect
Photoquadrats on a Transect Lesson Plan (please email us for this lesson plan)
Last updated: January 25, 2018