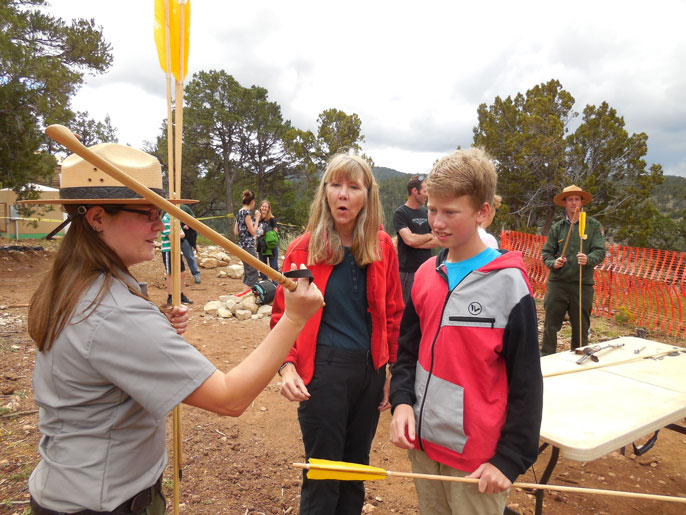 News Release Date:
March 18, 2015
Contact: Cecilia Shields, 928-699-9409
Fee Free Day –March 21, 2015 at Walnut Canyon National Monument
Flagstaff, AZ. –In honor of Walnut Canyon's Centennial, Superintendent, Kayci Cook Collins, announces a special fee free day, this Saturday, March 21, 2015. As part of Arizona Archaeology Month, Walnut Canyon will host a Craft Day with demonstrations and hands-on craft making. Join NPS archaeologists at the Walnut Canyon visitor center and learn how early people in Arizona processed plant food. Make your own pinch pot, paint brush, and split-twig figurines. All events will take place on the back patio of the Walnut Canyon Visitor Center from 11:00 am to 2:00 pm, Saturday, March 21, 2015.
Visitors arriving at Walnut Canyon National Monument will be allowed to enter free of charge, as part of the ongoing celebration of the Monument's 100-year anniversary. The visitor center will also have Interagency Senior and Annual Passes available for those who wish to purchase them.
In addition, the Western National Parks Association (WNPA), our non-profit partner that supports the interpretive activities of the Flagstaff National Monuments, will be giving a 15% discount on all items on March 21, 2015, at the Walnut Canyon NM bookstore.For more information about WNPA, please visit their website at www.wnpa.org.
Walnut Canyon National Monument is located approximately 7.5 miles (12km) east of Flagstaff on I-40;take Exit 204, and head south. The Walnut Canyon Visitor Center is located at the end of this 3 mile road. Information can be obtained from (928)526-3367 and on the web at www.nps.gov/waca.