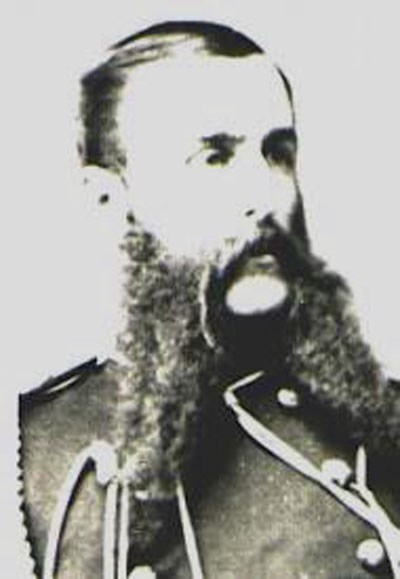 William Winer Cooke was born into a prominent family on May 29, 1846, in the hamlet of Mount Pleasant, a few miles south of present-day Brantford, Ontario, Canada. At the age of fourteen, he moved to Buffalo, New York, to live with relatives. In 1863, he lied about his age to join the 24th New York Cavalry in Niagara Falls as a recruiter, and he was commissioned a second lieutenant on January 26, 1864. Cooke was wounded on June 17th of that year at Petersburg and returned to duty a month later as the unit quartermaster. He was promoted to first lieutenant on December 14, and in March 1865 he assumed command of Company A and participated in the battles of Five Forks, Dinwiddie Court House, and Sayler's Creek, He received brevets of captain, major, and lieutenant colonel for his service. When honorably discharged on June 25, 1866, he returned home to Canada.
Cooke's father encouraged him to form a cavalry unit in Canada, but instead he chose the U.S. Army. He was commissioned a second lieutenant in Company D in the newly formed 7th U.S. Cavalry and reported to duty on November 16, 1866. Cooke served as regimental adjutant from December 1866 to February 1867, and again from December 1874 until June 1876.
He became known by his nickname "the Queen's Own" and had the reputation as one of the best shots and fastest runners in the regiment. His appearance was also quite distinctive. He wore long "dundreary" side-whiskers.
Cooke was involved in particularly perilous re-supply mission to Fort Wallace, Kansas, during General Winfield Hancock's expedition in 1867, and took part in the incident in which several deserters were shot—one of whom died later. Civil charges for murder were placed against Cooke and Lieutenant Colonel George A. Custer in these shooting but were subsequently dropped. He also participated in Custer's mad dash across Kansas that led to Custer's court-martial.
In the winter campaign of 1868-1869, which included the Battle of the Washita, Cooke commanded the Cop d' Elite, a battalion of 40 sharpshooters. Cooke's sharpshooters approached along a course to the left of Custer's main command fairly fronted on the Cheyennes at the northernmost part of the river bend after the attack opened. They hid themselves in the brush on the northern side of the river, and waited for their targets to appear. After the attack, many Cheyennes fled downstream along the river where the sharpshooters shot at them. Very few Cheyenne who came their way survived unscathed, including Chief Black Kettle and his wife, Medicine Woman Later who were killed crossing the river bend.
On March 15, 1869, Cooke put his life on the line when Custer and he alone rode unannounced into the hostile village at Sweetwater Creek, Texas, to confirm the presence of white captives.
Cooke was on leave during the Yellowstone expedition of 1873, but he served in the Black Hills expedition of 1874 and became regimental adjutant in December 1874.
He delivered Custer's orders to Major Marcus Reno that commenced the June 25, 1876, battle of the Little Bighorn. Later he would scribble Custer's last message imploring Captain Frederick Benteen to "Come On." Cooke died alongside Custer, who considers his adjutant a close family friend. Cheyenne warrior Wooden Leg claimed to have scalped the whiskers from one side of Cooke's face and presented the unusual "scalp" to his grandmother, who discarded it two nights later at a dance.
Colonel William Winer Cooke's body was removed from the battlefield in 1877, and reinterred in Hamilton, Ontario, Canada.


Bibliography

Greene, Jerome A. Washita: The U.S. Army and the Southern Cheyennes, 1867-1869.
Norman: University of Oklahoma Press, 2004. (pgs 79, 84, 89-90, 113, 134, 162, 179, 203, 243)

Hardoff, Richard. Washita memories: eyewitness views of Custer's attack on Black Kettle's village.
Norman: University of Oklahoma Press, 2008. (pgs 13, 138, 145-46, 153, 158, 184, 191, 199, 207-209, 218, 222, 228, 243, 249, 255, 373-74)

Utley, Robert M. Cavalier in bucksin: George Armstrong Custer and the western military frontier.
Norman: University of Oklahoma Press, 2001. (pgs 46, 73, 76, 171, 177, 182, 185-187, 191, 192, 199)