Frederick W. Benteen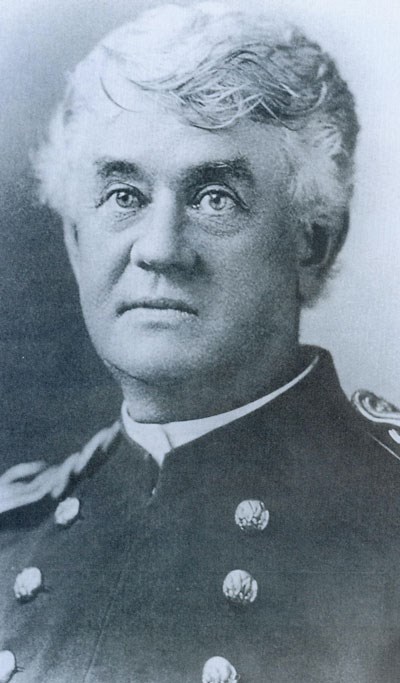 Frederick William Benteen was born on August 24, 1834, in Pittsburg, Virginia. He moved to St. Louis, Missouri at the age of seven, where he attended a private academy and began working alongside his father painting houses and signs. Surprisingly for a young man with Virginia roots, he turned his back on the South and entered the Civil War in September 1861 as a first lieutenant in Bowen's Battalion, which later became the 10th Missouri Cavalry. His slave-owning father, Theodore C. Benteen, was furious at this betrayal by his son and, in addition to disowning Frederick, was alleged to have said, "I hope the first bullet gets you!"
He married Catharine Norman of Philadelphia, Pennsylvania, on January 7, 1862. The Benteens lost four children to spinal meningitis, and raised one son, Fred, who later became a major in the army.
Benteen, who was promoted to captain on October 1, 1861, distinguished himself in actions at West Glaze, Wilson's Creek, Bolivar, Milliken's Bend, and the battle of Pea Ridge; skirmishes at Springfield, Sugar Creek, Batesville, Cotton Plant, Kickapoo Bottom, and Greenville; and the defense of Helena. He would meet Joel H. Elliott, a subordinate officer to Benteen during this time, and the two became good friends.
While Benteen fought for the Union cause, his father was employed as chief engineer on a Mississippi steamboat called the Fair Play, which supplied the Confederacy. On August 18, 1862, Captain Benteen's company was part of the flotilla that captured his father's boat. The civilian crew members were soon released, except for T.C. Benteen, who, perhaps on account of his son's influence, was imprisoned for the duration of the war.
Benteen was appointed major in December 1862. He was promoted a lieutenant colonel in February 1864 and placed in command of the 4th (Winslow) Brigade of General Pleasanton's Cavalry Division. On June 6, 1865, he was recommended for the brevet rank of brigadier general, but the recommendation was not accepted. Benteen was soon mustered out in Chattanooga, Tennessee on June 30, 1865.
After the war, Benteen was appointed colonel of the 138th US Colored Volunteers and served in that unit from July 1865 to January 1866. He received his Regular Army commission as captain in July 1866 and was assigned to the 7th US Cavalry.
Benteen took an immediate dislike to Lieutenant Colonel George Armstrong Custer, who was younger in age yet senior in rank and nationally famous. He became notorious as Custer's most outspoken critic. Custer, to his credit, never spoke or wrote in a disparaging manner about Benteen.
During the Battle of the Washita, on November 27, 1868, Benteen was in command of Troop H under Major Joel H. Elliott. When the charge was sounded, Captain Benteen rode with the lead squadron. Upon entering Black Kettle's village, he was boldly confronted by a mounted Cheyenne youth, what Benteen thought was a fourteen year old boy, but was probably Black Kettle's 21 year old nephew, Blue Horse. The young man, armed with a pistol, appeared to invite Benteen to engage in a personal duel. Benteen admirably resisted the young man's entreaties and instead made "peace signs" in an attempt to encourage the youth to surrender.
The youthful warrior refused to do so, however, and spurred his horse toward Benteen while discharging his revolver. The bullets whistled pas the captain's head. The young man closed the distance, again firing, with the same results. Benteen maintained his discipline as a third round was fired at him, this one passing through the neck of his horse.
Benteen, who was dumped onto the snowy ground, made one last final appeal for his antagonist to surrender. The determined youth answered by leveling his revolver for another shot. Regretfully, Benteen had no other choice but to kill the brave young warrior.
The Joel Elliott controversy began here, when Benteen would later send an anonymous letter to the newspaper that accused Custer of the abandonment on the field of Major Joel Elliott and his detachment. This accusation created dissension for years to come among the officers of the regiment, who chose sides along loyalty lines. It would also have an effect on the actions at Little Bighorn, eight years later.
Benteen, as commander of Company H, participated in the Yellowstone expedition of 1873 and the Black Hills expedition of 1874.
At the June 1876 battle of the Little Bighorn, Captain Benteen was on a reconnaissance with about 125 troops when he received Custer's last message. Though he did not arrive in time to save Custer and his men, his battalion joined Major Marcus Reno's troops to form a perimeter and Benteen distinguished himself by apparently assuming de facto command in place of Reno, who was said to have been incapacitated. Benteen bravely rallied the troops throughout the two-day siege, in which he received a wound on the thumb.
True to form, Benteen also held the opinion that Custer had disobeyed the orders of General Alfred H. Terry, and thereby sacrificed his command.
Captain Benteen fought against the Nez Perce at Canyon Creek in 1877, for which he received a brevet to colonel. In 1882, he was promoted to major and transferred to the 9th US Cavalry. While serving as commander of Fort Duchesne, Utah, in 1886, Benteen, who had a fondness for alcohol, faced a court-martial and was found guilty of various offenses ranging from "drunkenness on duty" to "using obscene and profane language" and "exposing his person." His punishment, dismissal from the army, was later amended by President Grover Cleveland to one-year suspension in respect to Benteen's long and honorable service.
Benteen established his residence in Atlanta, Georgia, and requested that he be retired on disability following his suspension, which went to effect on July 22, 1888. Two years later, he received a brevet of brigadier general for his actions at Little Bighorn and against the Nez Perce. Frederick William Benteen died on June 22, 1898, from paralysis following a stroke. He was initially buried in Westview Cemetery in Atlanta, but was later reinterred in November 1902 in Arlington National Cemetery.


Bibliography

Greene, Jerome A. Washita: The U.S. Army and the Southern Cheyennes, 1867-1869.
Norman: University of Oklahoma Press, 2004. (pgs. 55, 89, 112-14, 123, 169, 233, 242, 245, 254)

Hardorff, Richard. Washita Memories: Eyewitness Views of Custer's Attack on Black Kettle's Village.
Norman: University of Oklahoma Press, 2008. (pgs. 11-12, 16, 25, 33, 91, 106, 174-179, 191-92, 199, 243)

Mills, Charles K. Harvest of Barren Regrets: the Army Career of Frederick William Benteen, 1834-1898.
Lincoln: University of Nebraska Press, 2011.
Last updated: August 1, 2020