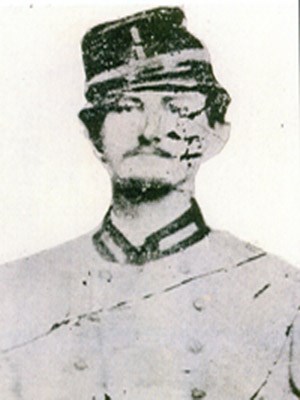 Walter M. Kennedy (also known as Thomas A. L. Tibbs) was born in 1839 on his father's farm near Appomattox, Virginia. He was the oldest of nine children of Jacob and Nancy J.W. (LeGrand) Tibbs, a wealthy Appomattox tobacco farmer who owned 310 acres and had eleven slaves. Thomas stood a bit over five feet, eight inches tall, and had gray eyes and dark sandy hair.
He had planned go to college when the Civil War broke out, but instead joined the 2nd Virginia Cavalry as a private and later elected 1st Lieutenant of Company H. He was wounded twice at Crampton's Gap on September 14, 1862, he was then transferred to Roger Preston Chew's Battery (Virginia Light Horse Artillery) as a private. On October 31st, 1862, Tibbs was wounded for a second time, and was promoted to the rank of lieutenant for gallantry. Assigned to Fitzhugh's brigade, he participated in the battle of Fredericksburg in December of 1862. Again he was seriously wounded in the arm a third time at New Market, Virginia, on February 1st, 1863. Thomas was taken to the hospital at Charlottesville, Virginia on February 2nd, 1863. He was later dropped from the Virginia Military Rolls on March 3rd, 1863. Afterwards, he spent time at home recovering from his wound. During that summer he thought of enrolling in college, but instead enlisted with the 4th Virginia Heavy Artillery in the autumn of 1863 as a private, and was sent to Charleston, South Carolina. He was attached to the Adjutant General as a Court Martial Clerk.
In May 1864, the 4th Heavy Artillery was transformed into the 34th Virginia Infantry and Tibbs was soon promoted to 1st Lieutenant of C Company. The last battle in Virginia was fought on his father's farm at Appomattox Court House, Virginia, on April 9th, 1865. He led his company against the Union troops through his father's front yard. After General Robert E. Lee's surrender of the Army of Northern Virginia that day, Lt. Thomas A. Tibbs, like many other Confederate soldiers, was paroled.
In the spring of 1866, he married Osceola "Ocie" Seddon Mason McLean, stepdaughter of Wilmer McLean. They would have one daughter, Virginia "Jenny" L. Tibbs. While visiting friends in Clarksburg, West Virginia in June 1866, he heard of the U.S. Army forming up new cavalry regiments to fight Indians. With his father's tobacco farm was partly ruin, and with no slaves it would be hard to keep it going. Thomas had to face the facts that the economics of the agrarian south was not feasible to raise a new family.
Tibbs enlisted under the name of Walter Mason Kennedy as a private with the U.S. Army on August 1, 1866, at Philadelphia, Pennsylvania. He was immediately assigned to the 7th U.S. Cavalry. Within a half a year of his enlistment he was promoted to Regimental Sergeant Major. He replaced Sergeant Major Myles Moylan, who recently was promoted to First Lieutenant and became the Regiment's Adjutant. Kennedy was appointed by the regimental commander, Lt. Col. George Armstrong Custer.
While he was with the 7th U.S Cavalry, Sergeant Major Kennedy was involved with General Winfield Scott Hancock's Kansas Expedition against Plains Indians during the summer of 1867. He followed Major Joel Elliott to the Medicine Lodge Treaty in October 1867; and he was part of Lt. Col Alfred Sully's campaign against Indians in September of 1868.
During the Battle of the Washita on November 27th, 1868, Kennedy joined the chase with Major Joel H. Elliott and sixteen other soldiers after some Cheyenne women and children that were heading east, down river. The Cheyenne were a considerable distance east of the village and were crossing open ground when the troopers discovered them and started their pursuit. Two younger warriors began running to draw the soldiers away from children and women. However, the soldiers went immediately for the women and children. Kennedy was ordered to take them back to the village, while the other soldiers chased the warriors. As Kennedy was leading the party back to the village, a young boy attempted to pull a revolver on him but was foiled and he surrendered the weapon. A Cheyenne woman named White Buffalo Woman, seeing warriors in the tree line, devised a ruse to slow the party, by binding the bleeding feet of the children while the rescuers got closer.
As the party moved west toward the village, four warriors fell in between them and Elliott's group. These four warriors from Little Raven's down river camp - Little Chief, Kiowa, Tossing Up, and Lone Killer - appearing suddenly from the trees near the river on Kennedy's right. The Sergeant Major fired at the men, then bolted away on his horse, attempting to get another round in his carbine, while the women and children broke away and ran for the river. The Arapahos soon overtook Kennedy, however, counting coup on him and finally pulling him off his horse and killing him.
Sergeant Major Walter Kennedy (aka Thomas A. Tibbs) was only 29 years old, stood 5' 8" and weighed 160 lbs. He had gray eyes and dark sandy hair. He was shot in the right temple; shot twice in the leg; shot seventeen times in the back; and his head partly cut off. Captain Frederick Benteen described Kennedy as "…a fine young soldier…" years later.
Walter M. Kennedy was survived by his wife Osceola and daughter Virginia; his father Jacob of Appomattox, Virginia; and his brothers, John Jacob Tibbs of Appomattox, Virginia, and Edward A. Tibbs of Appomattox, Virginia. Sergeant Major Creek, located west of present-day Cheyenne, Oklahoma, near where he was killed is named in his honor.


Bibliography

Greene, Jerome A. Washita: The U.S. Army and the Southern Cheyennes, 1867-1869.
Norman: University of Oklahoma Press, 2004. (pgs 122, 131-32, 188, 246-47)

Hardoff, Richard. Washita memories: eyewitness views of Custer's attack on Black Kettle's village.
Norman: University of Oklahoma Press, 2008. (pgs 18,69, 121, 182, 193, 226, 244, 359, 383, 393)

Marvel, William. A Place Called Appomatox.
Chapel Hill, NC: University of North Carolina Press, 2000.