Little Robe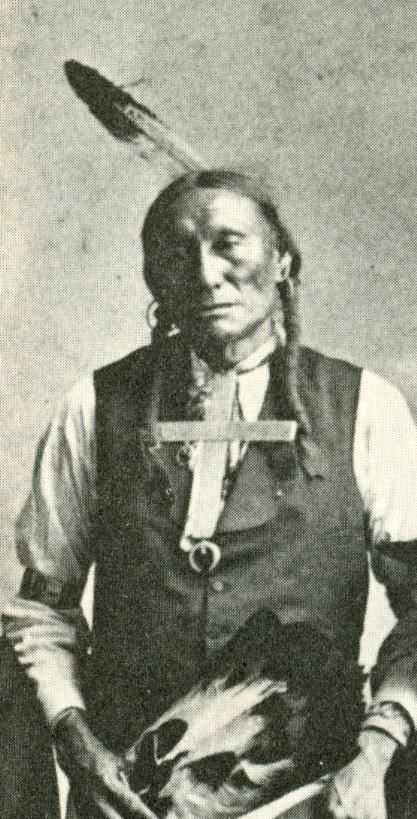 Little Robe (Ski-o-mah), who was born in about 1828, became a noted young warrior during combat against traditional enemies. His first tribal distinction came after a battle with Pawnee in Kansas in 1852, when he was given the honor of carrying from camp to camp the pipe of mourning in memory of those lost in the engagement. He became a chief around 1863. Colonel John Chivington, 3rd Colorado Volunteer Cavalry, claimed to have killed Little Robe at Sand Creek, Colorado, but reports of his death were greatly exaggerated.
The massacre compelled Little Robe to wage war against whites, but he soon came to the conclusion that such actions were hopeless. He participated in the April 1867 council with General Winfield S. Hancock at Fort Larned, Kansas, and then worked with Chief Black Kettle in an effort to persuade militant brethren to join them in signing the Medicine Lodge Treaty in October 1867.
In November 1868, Little Robe accompanied Black Kettle and other chiefs to Fort Cobb, Indian Territory, to talk peace with Colonel William Hazen, but were told that they had to make peace with General Phillip Sheridan to ensure their safety. They were told that he was in the field. The chiefs returned to their camp on the Washita River, and discussed what was said with their tribal council. When Black Kettle was killed during the attack by the 7th U.S. Cavalry, Little Robe initially supported the hostiles. In March 1869, he was camped at Sweetwater Creek, Texas, and met with Lieutenant Colonel George A. Custer, who was attempting to secure the release of two captive white women from a nearby village. Later that spring, Little Robe surrendered at Fort Cobb, and assumed the role of principle chief of the peace faction.
Chief Little Robe was a member of delegations that toured Washington, D.C., and other eastern cities both in 1871 and 1873. He met President U.S. Grant on the second trip. He once again was a voice for peace during the Red River War of 1874-75, refusing to leave his reservation home in the Indian Territory on the North Canadian River. Although he was a proponent of peace with whites, he would not send children from his tribe to white schools. Little Robe (Ski-o-mah) died peacefully in 1886.


Bibliography

Greene, Jerome A. Washita: The U.S. Army and the Southern Cheyennes, 1867-1869.
Norman: University of Oklahoma Press, 2004. (pgs 38, 106, 109)

Grinell, George Bird. The Fighting Cheyennes.
Norman: University of Oklahoma Press, 1955. (pgs 84, 174, 275, 305, 321, 325)

Hardoff, Richard. Washita memories: eyewitness views of Custer's attack on Black Kettle's village.
Norman: University of Oklahoma Press, 2008. (pgs 369)
Last updated: February 5, 2018