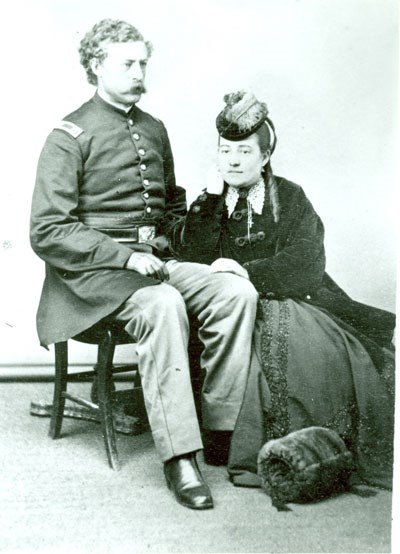 Albert Trorillo Siders Barnitz was a captain in the Seventh Cavalry commanding G Company of Major Elliott's squadron during the battle of the Washita. Barnitz was born on March 10, 1835, at Bloody Run, Pennsylvania, in Bedford County, but moved to Ohio shortly after his birth. He attended Kenyon College and the Cleveland Law College, but was for the most part a self-educated man. Barnitz toured the Midwest, conducting classes in elocution and performing dramatic readings, and in 1857, he published a volume of poetry.
Barnitz enlisted in 1861 as a sergeant in G Company of the Second Ohio Volunteer Cavalry. He saw action on the Kansas frontier against William Quantrill's guerrillas. He also led a raid on Confederate transportation lines in Tennessee. This mission was a complete success but proved nearly fatal to Barnitz, whose horse slipped and fell on him, causing severe injuries that included a broken jaw. After his recovery, he was reunited with his regiment, and served in Virginia, where the Second Ohio had become a part of the Army of the Potomac. Barnitz was later awarded a brevet to major for gallantry and meritorious services at Ashland Station, where he was wounded in the thigh while leading his men in a charge on foot. In September 1865, the Second Ohio was mustered out of service. In November 1866 Barnitz received an appointment as a captain in the Seventh Cavalry.
During the morning of November 27, Barnitz sustained a gunshot wound to the stomach while skirmishing with fleeing Indians. It is believed that Magpie shot Barnitz. Although he was expected to die, the captain survived his ordeal and was awarded a brevet to colonel for distinguished gallantry.
Albert Barnitz died on July 18, 1912, in Asbury Park, New Jersey, from the effects of a growth that formed around the old wound. He was buried at Arlington National Cemetery.


Bibliography

Hardoff, Richard. Washita memories: eyewitness views of Custer's attack on Black Kettle's village.
Norman: University of Oklahoma Press, 2008. (pgs 96-128)

Utley, Robert M. Cavalier in bucksin: George Armstrong Custer and the western military frontier.
Norman: University of Oklahoma Press, 2001. (pgs 50, 53, 59, 61, 68)

Utley, Robert M. Life in Custer's Cavalry: Diaries and Letters of Albert and Jennie Barnitz, 1867-1868.
New Haven: Yale University Press, 1977.