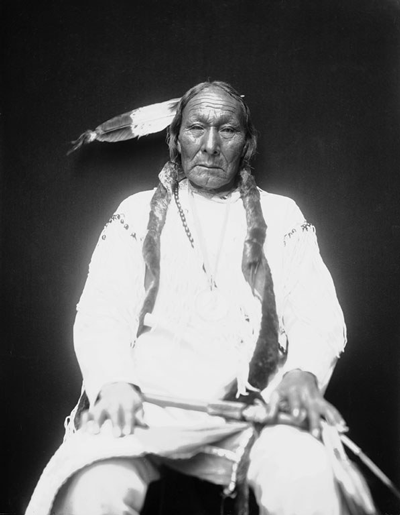 Magpie was born to Big Man and Magpie Woman, of Stone Calf's band, about 1852. After the Sand Creek Massacre in 1864, Magpie and his family joined relatives in the Wutapiu band. Magpie, a teenager by now, and his family were in Black Kettle's camp the morning of November 27th. It is believed that Magpie shot Captain Albert Barnitz during the fighting. Afterwards his family joined Medicine Arrow's band and surrendered at Fort Cobb in 1869.
Fearing a renewal of hostilities, his family left the reservation in the 1870s and joined the Northern Cheyenne in the Powder River country of Montana. In June 1876 Magpie participated in the battle of the Rosebud, during which he was wounded twice by General Cook's soldiers. A week later he was present at the Battle of the Little Bighorn.
Magpie returned to the reservation in 1878. He enlisted as an Indian scout at Cantonment in 1879 and served through 1885. Magpie married Walking Woman, the daughter of Afraid of Beavers, who was a close friend of Magpie's father.
In later years, Magpie was elected to the Cheyenne Chief's Council and converted to Christianity to become the first adult Indian in the Cheyenne church at Cantonment.


Bibliography

Hardoff, Richard. Washita memories: eyewitness views of Custer's attack on Black Kettle's village.
Norman: University of Oklahoma Press, 2008. (pgs 301-311)