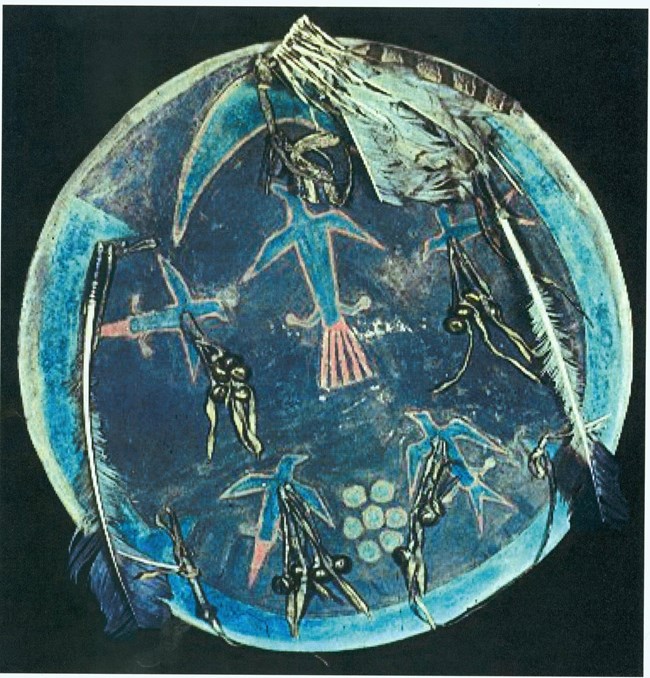 Little Rock was a minor council chief of the Wutapiu band of Southern Cheyenne. Little Rock was born about 1805 in the Black Hills of South Dakota. In his youth Little Rock proved himself to be a fierce warrior against his tribe's enemies. By the early 1860s, however, he had become an advocate of peace between his people and the white settlers.
A signatory of the Medicine Lodge Treaty in 1867, he fully understood the futility of war with the whites but was powerless to restrain his young men. On several occasions he acted as a mediator between his band and representatives of the United States government. All this despite threats made to him and his family by the warrior societies.
Although Little Rock would work hard for peace he would become a victim of two disastrous attacks by military forces. The first tragedy was in 1864 at Sand Creek. The second at the Washita.
Along the Washita River Little Rock's ornamented lodge stood at the lower (east) end of Black Kettle's village. During the cavalry attack he, She Wolf, and Trails the Enemy formed a rear guard to shield the fleeing women and children from the charging soldiers, thought to have been Major Elliott's detachment. He sustained a fatal gunshot wound to the forehead while running below the village. His wife Skunk Woman, his daughter Spring Grass (Meotzi), his sister White Buffalo Woman, another sister, and his elderly mother all survived the battle. Little Rock's mother and daughter were among the captives taken to Camp Supply.


Bibliography

Greene, Jerome A. Washita: The U.S. Army and the Southern Cheyennes, 1867-1869.
Norman: University of Oklahoma Press, 2004. (pgs 38, 51-53, 120, 132)

Grinell, George Bird. The Fighting Cheyennes.
Norman: University of Oklahoma Press, 1955. (pgs 303)

Hardoff, Richard. Washita memories: eyewitness views of Custer's attack on Black Kettle's village.
Norman: University of Oklahoma Press, 2008. (pgs 44-49)