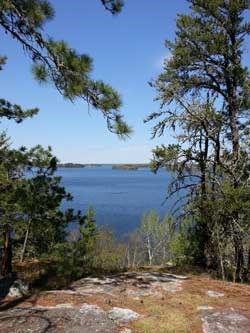 Just What the Doctor Ordered?
The serene forest haven of Voyageurs National Park provides might be just what the doctor ordered. People have been coming to the North Woods for decades to escape the hustle of everyday life. Some came only for a visit, but spent a lifetime. Maybe you are here for the day, a week, or longer. No matter the time, a great way to explore this haven is out on the trails. Ranging from easy to strenuous, everyone can find a trail. The Ash River and Rainy Lake areas are home to many of the park's car accessible trails, while those with boat access can venture onto the Kabetogama Peninsula.
Studies show that people who spend time outside are generally happier, concentrate better, and are naturally more active. Participating in outdoor activities promotes cardiovascular fitness, reduces the risk of developing a chronic illness, helps you maintain a healthy weight, and even reduces the risk of anxiety and depression.