Accessibility
The National Park Service is committed to all practicable efforts for making NPS facilities, programs, services, information, employment, and meaningful work opportunities accessible to all people.
Please call the specific visitor center ahead of time for any additional arrangements or questions.
Physical/Mobility
Visitor Centers
Headquarters
Handicapped accessible entrance and restrooms.
Boat Tours
NPS vessels are accessible, short walks with the ranger may not be accessible. Please see Recreation.gov for tour descriptions.
Camping
Accessible lifts are located at the Rainy Lake, Kabetogama and Ash River boat launch areas.
Accessible campsites are located on Rainy Lake (R26-Sunrise Point) and Namakan Lake (N41- Voyageur Narrows) as well as the Rainy Lake Group Campsite (R74) and the Kabetogma Lake Group Campsite (K54). Reservations are required through Recreation.gov.
Deaf/Hearing Loss
Closed captioning shown on the park film at all three visitor centers.
Hearing devices are available for boat tours and in the auditoriums upon request.
Service Animals
Must be licensed and marked as working.
Intellectual/Learning
Please call the specific visitor center at least 2 weeks ahead of your visit for any additional arrangements. We would be happy to accommodate.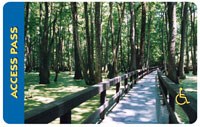 Interagency Passes
The following pass is available at any Voyageurs National Park visitor center.
Interagency Access Pass
Free lifetime pass available to citizens or permanent residents of the U.S. who have been determined to be blind or permanently disabled. Pass is available only in-person at any Voyageurs National Park visitor center. This pass may be used for the card holder only for a 50-percent discount on Voyageurs National Park boat tours. Must have pass at time of reservation. Learn more about the Access Pass.
Last updated: August 20, 2019