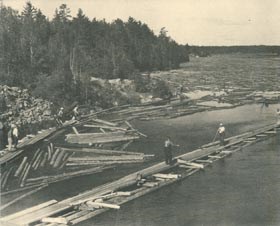 The depletion of the large stands of white pine in Michigan, Wisconsin, and central Minnesota through logging brought the lumber industry north into the area now designated as Voyageurs National Park.
An initial logging frenzy occurred in the 1880s and 1890s, followed by the development of two major logging companies. The International Logging Company operated primarily in Koochiching County and transported timber to sawmills at International Falls and Fort Frances until 1937.
In order to meet the constant water supply needs of sawmills, dams were constructed at International Falls, Kettle Falls, and Squirrel Falls in the early 1900s.
The Virginia & Rainy Lake Lumber Company controlled much of the area to the east in St. Louis County, Minnesota. They conducted much of their operations until 1929 by rafting logs to Hoist Bay, which can still be viewed by park visitors.
Hoist Bay is named for the machinery that was used to hoist floating logs out of the lake and onto a waiting train. The tracks extended out over the water to facilitate loading. From Hoist Bay the logs were taken to sawmills located in the town of Virginia, Minnesota.
The extensive logging operations that occurred in the park area have altered the composition and structure of the park's forests. White and red pine are now a much smaller component of the park's forests, and there are fewer stands of large, mature trees.