Harry Oveson Fish Camp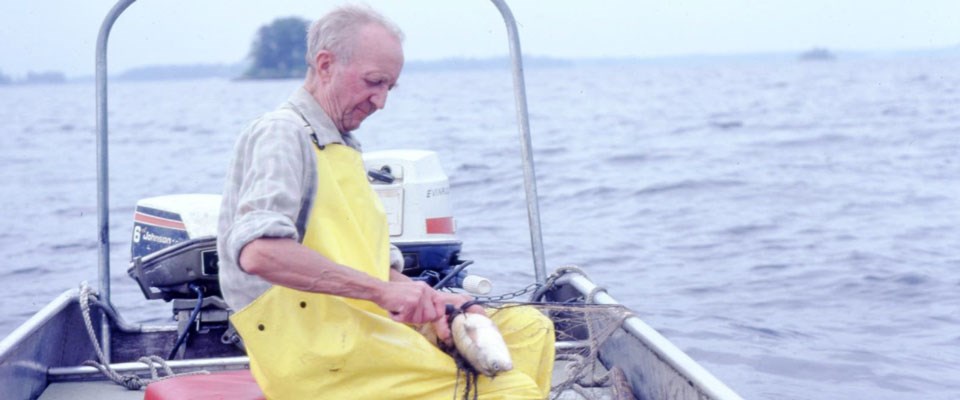 Introduction
Harry Oveson Fish Camp is a Visitor Destination site that displays the lifestyle of commercial fishing. It is a testament and reminder of the hard working life that commercial fisherman like Harry experienced.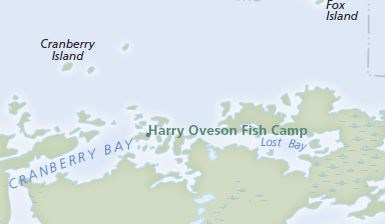 Visiting the Harry Oveson Fish Camp
Today, visitors can still experience the seclusion and lifestyle of Harry's legacy. This Day Use site has a picnic table and fire ring. Visitors are welcome to enjoy a shore lunch while immersing themselves in Voyageurs' fishing history. Peek into the ice house, relax, watch for birds, and enjoy Harry Oveson's life on Rainy Lake.
History
An Isolated Lifestyle
Harry Oveson was born in 1906 in Roseau, Minnesota and moved with his family, in 1921, to International Falls. In his youth, he worked at many different jobs; from his father's bait and tackle shop to the local lumber mill. During the Great Depression, Harry engaged in train hopping to travel across America. During World War II, Harry served in the U.S. Army stationed in Alaska. In 1959, he settled on Rainy Lake to build his fish camp.
In a typical day, Harry would rise before dawn and often see the sun come up from his front window. By 6:00 am he headed out on his 16-foot Alumacraft boat to lift his nets, remove the fish, and reset the nets for the next morning's catch. At 10:00 am he would be back at the fish house to prepare and pack the fish. He removed the entrails of the whitefish, but the walleye could be packed whole. His catch of the day would be packaged in fish boxes and put on crushed ice for transport. A good day's catch would produce around 300 lbs. of whitefish and 50 lbs. of walleye.
As a bachelor, he was content with his dog Goofball and the various birds that frequented his North Woods haven. Quiet evenings and dark skys made for excellent reading and star gazing, two of Harry's other interests.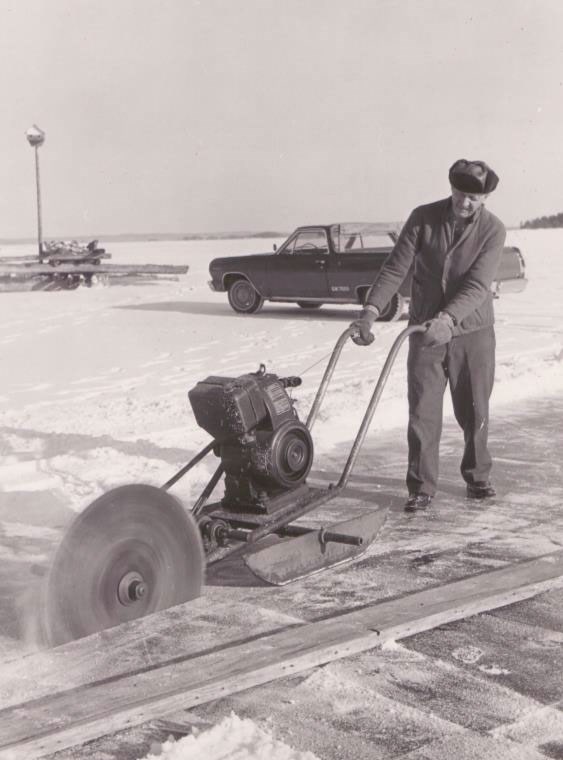 The Ice Harvest
Given most commercial fishing camps were in remote locations, ice was critical to operations. Every other January, Harry would leave his winter home in Arizona to make the trip up north for the sole purpose of harvesting ice so a summer's catch could be refridgerated.
The initial process of cutting ice meant the clearing of lake surfaces. Large "cakes" of ice were cut using a power saw. The next step required a few helpful friends and tools such as: a car or snowmobile, long rope, pulleys, and an ice hook. After about four laborious hours, the icehouse would be filled 16 by 10 feet and 8-feet high of tightly packed ice. Harry would finish up by packing a thick layer of insulating sawdust on top of the ice. The ice house walls filled with cedar shavings and complete with a vapor seal and a layer of sawdust did a remarkable job keeping ice frozen. In fact, while most commercial fishermen would harvest ice annually, Harry's ice house was so well insulated, his ice would last two summers.
When it was time to pack fish for the market, Harry would pull out three or four ice cakes to wash, split, and run through the ice crusher in preparation for transport. Harry hauled fresh fish into the town of International Falls almost every other day. Sometimes a supply boat called a "fish boat" would pick up Harry's catch after stopping to deliver mail, fuel, and groceries. His catch was sold to local resorts, markets, tourists, and as far away as Chicago.
One of the Last
Harry Oveson was one of the last commercial fishermen to operate on Rainy Lake. Increased popularity of sport fishing ultimately led to the demise of commercial walleye fishing on Rainy Lake. On July 1, 1985, the State of Minnesota paid Harry and two other remaining Rainy Lake walleye netters $17,633.31 each to surrender their licenses. Harry Oveson closed up camp and moved to Arizona where he died in 1990 at the age of 84.
Last updated: April 17, 2018