Hoist Bay
Introduction
Standing the test of time, Hoist Bay preserves the relics from the logging era of the early 1900s and the recreation/resort era of the 1930s. Step back in time and explore Hoist Bay.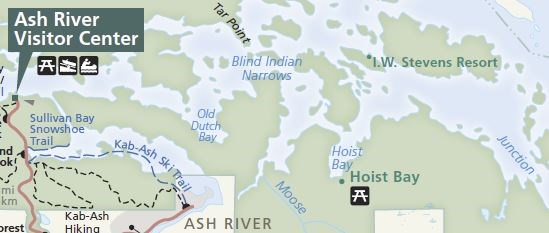 Visiting Hoist Bay
Today Hoist Bay is registered as a historic site for its long history in logging and recreation. Visitors can enjoy the area as a day use visitor destination.
This site provides park visitors a dock, picnic tables, and a privy. The historic boathouse, cabins, ice house, and root cellar are open for exploration. The pilings for the trestles and railroad grade can also be seen.
History
The Logging Era
Camp 75
In 1905 Edward Hines and the Weyerhaeuser family pooled their resources to create the Virginia and Rainy Lake Lumber Company. The flag ship of the company was its sawmill in Virginia, Minnesota, which could process one million board feet of lumber a day.
To transport logs to the sawmill before the days of modern logging technology, logs had to be floated down rivers and winched across lakes in giant booms by amphibious boats called gators. Hoist Bay, home of the Virginia and Rainy Lake Logging Camp 75, was one of these destinations.
At Hoist Bay, a hoist machine lifted the logs out of the water and placed them on empty train cars for transportation. Pictured below is the railroad trestle and hoist built across the water. The train then transported the logs to Virginia, Minnesota to be cut into boards.
Between 1913 and 1929 the camp in Hoist Bay operated for 16 years. In its lifetime, 13.5 million board feet of lumber entered its waters. By 1929 most of the white and red pine stands were cut; Camp 75 was shut down and dismantled, ending one part of the Hoist Bay story.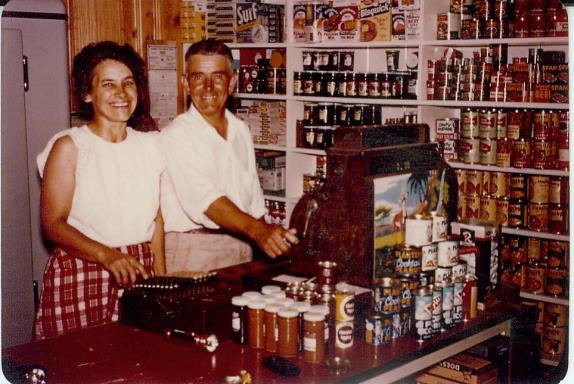 The Recreation Era
Monson's Resort
The Hoist Bay area lay dormant for almost 10 years, changing ownership 50 times, until 1939 when Ted and Fern Monson purchased the land, starting a new chapter in its history.
When the Monsons arrived, there were few reminders of the previous logging era. The only remnants included the railroad trestle, an old root cellar, and a garbage dump.
Between 1939 and 1945 the Monsons built 4 cabins; each cabin had 4 bedrooms, a kitchen, and a living room. Modern amenities such as indoor bathrooms and electricity were added in the 1950s.
In all, the Monsons built 14 buildings that were enjoyed by summer visitors, and they catered to their guests' needs for 35 years only closing for 3 years during World War 2.
Ted and Fern decided to sell the resort in 1973, and in 1978 the Hoist Bay land was acquired by the National Park Service. It was designated a point of interest for visitors, and a new chapter in the history of Hoist Bay began.
Last updated: April 17, 2018