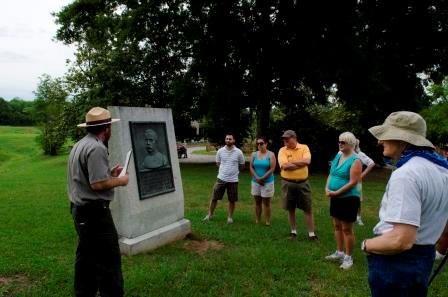 During the summer months, join a park ranger to learn more about the campaign and siege for Vicksburg. All programs are free of charge. The summer is hot and humid, please plan ahead and bring plenty of water, wear hats, and wear plenty of sunscreen.
Children are encouraged to participate in the
Junior Ranger Program.
Throughout the year, l
iving history events are scheduled
to help bring the Civil War to life, including weapon demonstrations and opportunities to explore civilian life.



Program Schedule for the Summer of 2018:
(all programs may be canceled due to incliment weather. Programs are accessible and suitable for all ages. Children must be accompained by an adult.
)
Memorial Day Weekend Events
Introductory Talks
:
8:45am, 11:15am, 3:15pm
15 minutes at the Visitor Center. Explore the events leading up to the siege of Vicksburg, and learn how to best explore the national military talk.
USS Cairo Gunboat Talks: 10:00am, 11:00am, 1:00pm, 3:00pm
15 minutes at the USS Cairo Museum. Join park rangers and explore the only remaining example of a City Class ironclad.
Shirley House: 9:30am
20 minutes. Learn about the civilian side of the siege while exploring the only house on the battlefield that remains from the siege.
Other programs may be offered on a limited basis. Check at the visitor center or on our
Facebook page
for more information.