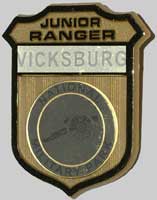 National Parks are special places set aside by the American people to conserve the scenery, and preserve natural, cultural and historic resources to provide for their enjoyment in a way that leaves them unimpaired for future generations.

National Park Junior Ranger Programs connect young people to their national parks through many hands-on, guided, and self-guided activities, and cultivate future generations of park stewards and explorers.

For more information on Vicksburg National Military Park and National Park Junior Ranger Programs visit:

Shape Up, Junior Ranger!
National Park Service WebRangers
National Park Foundation


For information on the Junior Ranger program at Vicksburg National Military Park, call 601-636-0583.