14-Mile Trail Hiking Instructions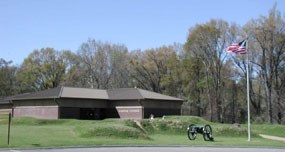 Upon arrival at Vicksburg National Military Park, register your troop at the Visitor Center. All members must view the movie shown in the Visitor Center prior to starting the hike. Ensure that adequate provision has been made to supply water to the hikers, particularly in hot weather. It is not unusual for a hiker to consume a gallon of water when hiking the trail in hot weather. Water is only available at the Visitor Center at the start of the hike, and at the USS Cairo Museum, approximately halfway through the hike.
Time to hike the trail varies with the group, however, most finish in about 7 hours, not counting lunch. A picnic area is available at the USS Cairo Museum. Plan your time in order to arrive back at the Visitor Center before dark.
You are now ready to begin the trail. Start by facing north (or left as you face the Visitor Center), on Confederate Avenue, walking against vehicle traffic. As you hike the trail and pass tour stops not listed as Required Stations, you are encouraged to stop your hikers and read the various plaques and monuments. As many hikers as possible should be given the opportunity to read to the rest of the group.
As you arrive at the Required Stations, read the information from the trail booklet for each station to all hikers, being sure that each one understands the question. The answer to the questions can be found on the plaques or monuments at that station. Have each hiker determine the answer. Prior to leaving the station, write the answer on the supplied
answer sheet
.
At the conclusion of your hike, fill out the
award form
application, making sure the answer sheet is complete, and mail the form to the
Vicksburg Trails Commission
with a check or money order to cover costs of the awards.
Your comments and suggestions to improve the trail are welcome.
Last updated: September 5, 2019