Al Scheller Trail - Hiking Award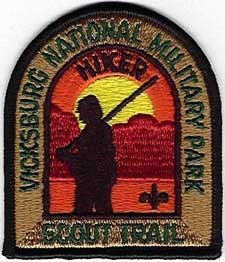 To claim your hiking award, fill out the application (located on this site) for the award. Please print your information clearly. Mark the desired award beside the name of each applicant. If you have more than 25 applicants, continue the names/awards on a separate piece of paper and attach it to the form provided. Check to be sure you have completed the answers to
all
twenty-three questions on your answer sheet for each required station. Mail the completed application form, along with your check or money order to cover each award ordered, to:
Vicksburg Trails Commission
Johnny Nassour, Chairman
P.O. Box 820425
Vicksburg, Mississippi 39181
Tel: 601-618-7879
Vicksburg Trails Commission
It has been our pleasure to host your scout troop. Information on other historical hikes, including a 7-mile and 14-mile trek along the Vicksburg National Military Park tour road, can also be found on the park's web site, or obtained from the Vicksburg Trails Commission by phone, fax, or internet. A hike booklet is published by the Vicksburg Trails Commission for each activity.
Last updated: April 25, 2019