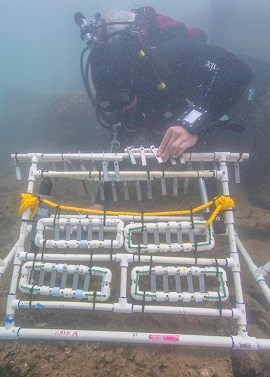 Corrosion Research at the USS Arizona - August 2018
The National Park Service worked with students from the US Coast Guard Academy on a corrosion project at the USS Arizona. That work included corrosion rack deployment, collecting surface oil samples, and project imaging and documentation - all in an effort to better understand the rate of corrosion of the USS Arizona and to learn more about the oil that is still leaking from the ship.

The team also included Chris Reddy, senior scientist for the department of marine chemistry and geochemistry at Woods Hole Oceanographic Institute, and metallurgist Don Johnson.

Find out more about what they learned. Another story can be found here.