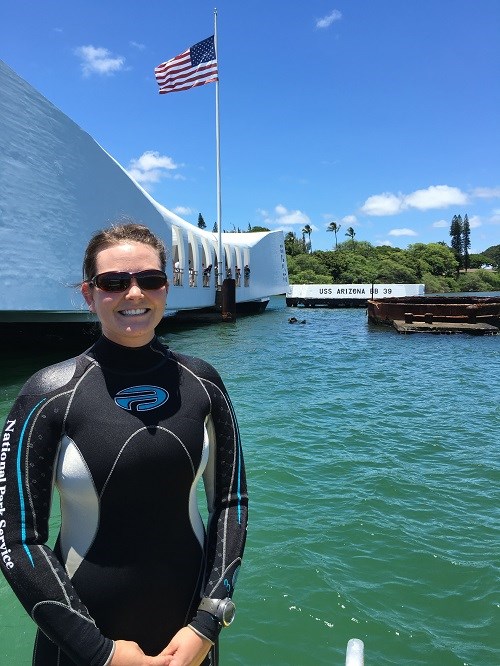 My name is Jessica Keller. I am a 29-year-old Archeologist for the National Park Service's Submerged Resources Center (SRC). I started with the SRC in 2012 while finishing up my Master's degree at Indiana University.
Though the SRC has been documenting and interpreting USS Arizona since the early 1980's, this was my first time diving and visiting the site in this capacity. The excitement and honor to dive on this historic site was palpable as we geared up and tested our full face mask communication systems.
However, once we descended beneath the murky water, a reverent feeling took over as I was given a tour by Deputy Chief of the SRC, Brett Seymour. The 60 foot deck guns emerged from the haze into view. The size and shape of this powerful device no longer showed the gleam as they once did, but instead, now provide fish and coral with a place to call home. Scattered across the deck are the remains of a shoe, cooking pot, and Coca-Cola bottle that all were once used by the brave men who served on this vessel. Seeing these items brought a tear to my eye and a tug at my heart to think that these simple items can create such a connection to the past. The tragic loss of lives during those first few minutes of the Japanese air raid impacted Americans across the island and entire country.
A feeling of pride soon took over that the responsibility and stewardship of this hallowed place rests within the National Park Service.This site is protected and preserved for future generations to visit and pay their respects to the crew of USS Arizona and to learn about the devastating events that occurred at Pearl Harbor, the beginning of the US involvement in WWII. This dive was conducted in preparation for an upcoming research project by the NPS and partners to assess the interior condition of the ship. Since divers never enter the ship out of respect for those still entombed, we will be deploying a custom built remotely operated vehicle, or ROV designed by Woods Hole Oceanographic Institution. We will also have the honor of being joined by Don Stratton, one of only 5 remaining USS Arizona survivors, as we fly the ROV inside his ship.
The interior investigation of the internal decks is critical for helping the NPS with the resource management and stewardship of USS Arizona. The entire project is also the subject of a documentary film by PBS commemorating the 75th anniversary of the attack on Pearl Harbor. Stayed tuned for updates as I share more about the project and what it's like to dive the USS Arizona.