USS Arizona Memorial Volunteers Honored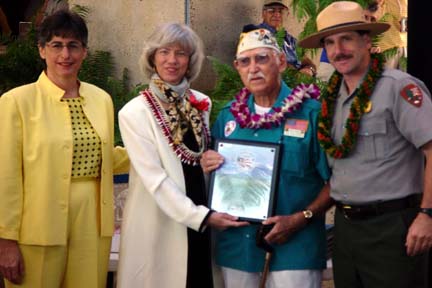 News Release Date:
January 11, 2004
Contact:
Terry Dorman, (808) 422-2771 ext.133
Sunday, January 11, 2004 U.S. Interior Secretary Gale Norton and Hawai'i Governor Linda Lingle honored ten USS Arizona Memorial volunteers at the park's visitor center. The volunteers received the "Take Pride in America Secretarial Award" for dedicating over 3,000 lifetime service hours to the national shrine. The volunteers are part of the USS Arizona Memorial's Volunteers-In-Parks Program (VIPs); collectively they have given over 60,000 service hours to the National Park Service. Park Superintendent Douglas Lentz put the volunteers' accomplishment in perspective by reminding the crowd that the average employee works 40-hours a week or 2,080 hours a year. All the volunteers honored dedicated well over 3,000 hours. Lentz stated,"Our volunteers have a personal connection to the Memorial and their emotion and enthusiasm rubs off on the visitor." Honored were: Hilma Chang, Ray Emory, Richard Fiske, Gilbert Hatter, Everett Hyland, Stanley Igawa, Robert Kinzler, John Newton, Herb Weatherwax, and Warren Verhoff posthumously. The Interior Secretary praised the USS Arizona Memorial and Hawaii's Governor Linda Lingle for providing the community with volunteer opportunities. "Volunteerism in our historic parks provides a commitment to preserving America's culture and history for future generations," stated Norton during the reception. Seven of the volunteers honored Sunday were Pearl Harbor Survivors. Their stories, photos, letters and memorabilia give perspective to December 7, 1941. For our youngest generation of Americans who do not "Remember Pearl Harbor," they now have a face and a personality to coincide with the history books. These volunteers in particular are living history. Park ranger Terry Dorman manages the park's volunteer program. The secret to his success is the wise utilization of volunteer's talents and time. In six years, the park's annual volunteer hours have increased from 8,000 to 22,600 hours a year. The volunteer program is as popular and strong as ever with 45 full-time volunteers. Resurgence in patriotism and a reinvigorated tourism economy continues to make the USS Arizona Memorial one of Hawaii's most visited sites. The Memorial averages 4,200 visitors daily and volunteers are essential to the visitor center operation. On any given day volunteers can be found throughout the park presenting interpretive programs, conducting informal talks and providing visitor services. The Take Pride in America Program was launched to recognize and support volunteers who dedicate themselves to the betterment of national parks and cultural and historic sites. The volunteers at the USS Arizona Memorial have made a tremendous contribution to helping American's experience their heritage. To learn more about volunteering and the Take Pride in America visit www.takepride.gov.