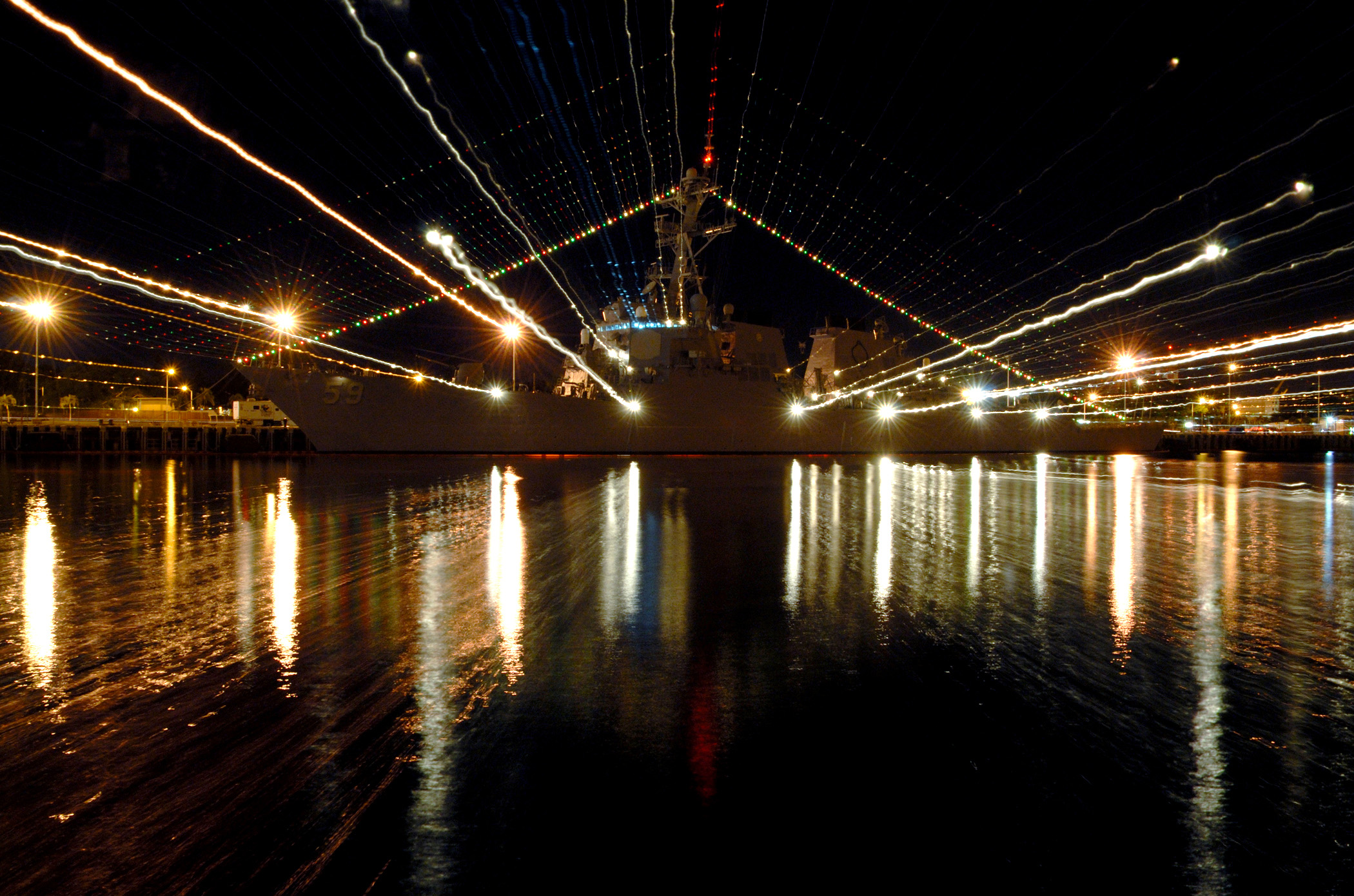 News Release Date:
December 14, 2015
Contact: Julia Clebsch, 808-422-3315 (work) or 808-366-8230 (cell)
HONOLULU - The annual Pearl Harbor Holiday Festival of Lights featuring decoratively lit ships and submarines will be on display through Dec. 25. Public tours by boat in the harbor will be conducted Dec. 17 and 18, 2015.
Boat tours for the public will be offered by the National Park Service World War II Valor in the Pacific National Monument, and the US Navy, from 6 p.m. to 8 p.m. Dec. 17 and 18. The boats will depart every half hour from the Pearl Harbor Visitor Center, 1 Arizona Memorial Place, off of Kamehameha Highway. Seats are limited and will be on a first come, first served basis.Tickets will be available, first come, first served, beginning at 5:30 p.m., at the day of the tour, at the USS Arizona ticket counter in the Pearl Harbor Visitor Center. No reservations available.
No backpacks, fanny packs, luggage, diaper bags, camera bags, purses, large camera/tripods or other items that provide concealment are allowed in the visitor center or aboard the boats. There are lockers available, through a partner organization, on site for a small fee.
Do not leave your valuables in your car. Cameras are allowed aboard for photos of the decorated ships. However, photographing security activities such as the patrol boats and security personnel is prohibited.
The annual ship/submarine holiday lighting competition is judged on Dec. 16 by a United States Navy barge tour of the harbor. Judges, tentatively, will include representatives from Submarine Force U.S. Pacific Fleet, Pearl Harbor Naval Shipyard and Navy Region Hawaii.
The top three and honorable mentions will be selected for both ships and submarines by the US Navy. A special admiral's choice award will be presented to one ship or submarine of Navy Region Hawaii and Naval Surface Group Middle Pacific's choice. All ships and submarines are encouraged to show their festive spirit and provide the best holiday lighting and hospitality they can muster.
Keep up on the latest changes through our Facebook page and our Twitter page.