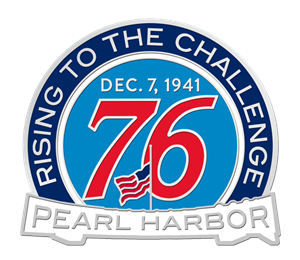 News Release Date:
November 24, 2017
Contact: Stephanie Loeb, 215-268-2614
~ Media Credentialing Requests Due by December 4, 2017 ~
FOR GUIDANCE AND PLANNING PURPOSES ONLY - NOT FOR BROADCAST
WHAT: National Pearl Harbor Remembrance Day 76th Anniversary Commemoration Ceremony
The National Park Service and the United States Navy will host the 76th Anniversary National Pearl Harbor Remembrance Day Commemoration Ceremony to honor and remember the 2,390 American casualties lost during the Japanese attack on Pearl Harbor and on the island of Oahu, December 7, 1941.

The ceremony will begin at 7:50 a.m. and take place on the Ceremonial Lawn at World War II Valor in the Pacific National Monument. Pearl Harbor survivors, WWII veterans, family members, and local dignitaries will be in attendance. Steve Twomey, author of Countdown to Pearl Harbor, will deliver the keynote.

WHEN: Tuesday, December 7, 2017
Media parking at the Pearl Harbor Visitor Center begins at 4:30 a.m.
Media check-in will be from 6:00 - 6:30 a.m.
Ceremony begins at 7:50 a.m.  

WHERE: World War II Valor in the Pacific National Monument
1 Arizona Memorial Place
Honolulu, HI 96818

MEDIA CREDENTIALS:
Event credentials issued by the National Park Service are required to obtain access to the December 7 ceremony only. Credentialed members of the media interested in covering the event must RSVP HERE by December 4 at 6 p.m.

Additional information regarding media credentialing pick-up and other important coverage details will be sent in future technical advisories.

CONTACT:                
Stephanie Loeb
Acting Public Information Officer
World War II Valor in the Pacific National Monument
e-mail us
215-268-2614
 
Information in this advisory is subject to change.
# # #