National Pearl Harbor Remembrance Day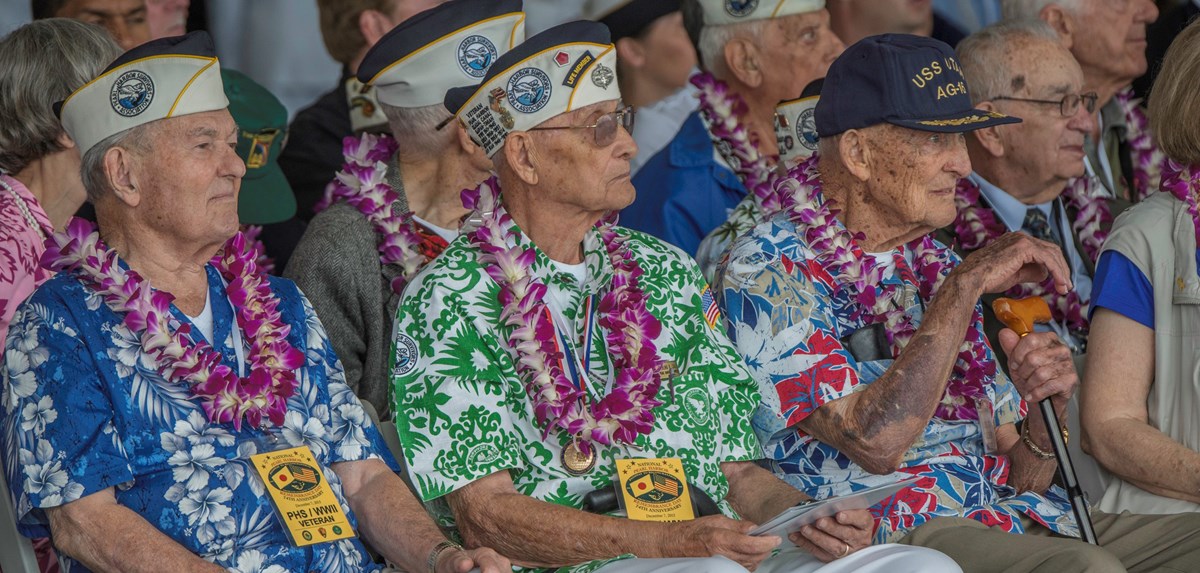 Remembering December 7, 1941
Each year on Dec. 7, Pearl Harbor Survivors, veterans, and visitors from all over the world come together to honor and remember the 2,403 service members and civilians who were killed during the Japanese attack on Pearl Harbor. A further 1,178 people were injured in the attack, which permanently sank two U.S. Navy battleships (the USS Arizona and the USS Utah) and destroyed 188 aircraft.
On Aug. 23, 1994, the United States Congress designated Dec. 7 as National Pearl Harbor Remembrance Day. Every year, remembrance events are held at World War II Valor in the Pacific National Monument, culminating in a commemoration ceremony on Dec. 7. To see photos of commemoration ceremonies, please go to our Flickr page.
Upcoming December 7th events
For press passes and anything else press related, please send an email to VALR_press@nps.gov.

For information about events taking place in Oahu during the week of December 7, 2017, please visit Pearl Harbor Events.
The public is invited to attend the 76th Commemoration ceremony, which will be held at WWII Valor in the Pacific National Monument's Pearl Harbor Visitor Center, 1 Arizona Memorial Place.
Parking for the general public will be available at the Aloha Stadium, with free bus shuttles provided from the Aloha Stadium to the ceremony and back. More information will be provided when available.
For security reasons, guests are not allowed to bring handbags, purses, camera bags, or other items that offer concealment to the ceremony.
Reservations are not available for the USS Arizona Memorial on Dec. 7, 2017. Instead, only walk-in tickets will be available on a first-come, first-served basis. Some of our normal program times in the morning will not be available due to ceremonies taking place at the memorial.
Please check our facebook page for the latest information.
Last updated: November 21, 2017