Ranger-led Activities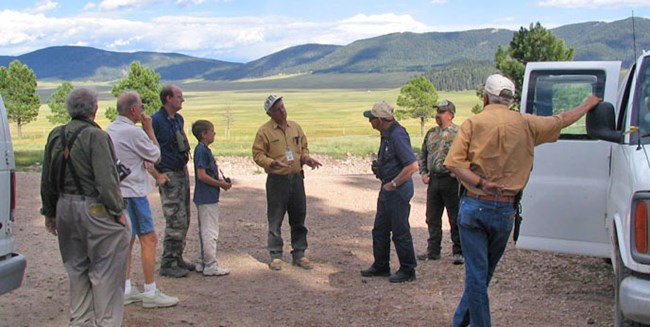 Your visit can be more enjoyable when you better understand the environment around you. Valles Caldera offers interpretive programs, guided hikes, guided snowshoe hikes, and ranger talks in various locations throughout the year.
Program schedules and types vary with the seasons. Valles Caldera offers the widest variety and number of ranger-led programs from mid-May through September. Ranger-led programs can be found on our
calendar
. When you arrive, check with staff at the Valle Grande Contact Station and bulletin board for program details or schedule changes.
Guided Hikes and Snowshoe Hikes
Guided hikes are led by rangers or volunteers that have an in-depth knowledge of the preserve. In addition, each guided hike focuses on a different topic or theme. Some guided hikes are only offered once while others are offered more frequently. Please check the
calendar
for dates and times guided hikes are offered.
Guided Van Tours
Your are invited on a series of fun and educational tours to explore the wonders that make the preserve unique. Pick your tour (
calendar
) and see how much fun education can be.
Fly Fishing Clinics
Volunteers from New Mexico Trout conduct fly fishing clinics giving up to 20 participants the opportunity to fish the waters of the preserve. Participants spend a half day learning about equipment, tackle, knots, stream insect sampling and identification. Participants will have time to practice their casting in the morning and then head for the stream in the afternoon. Bring a lunch to enjoy along the stream and be prepared for weather.
June 22 (9 AM to 3 PM) - Youth Clinic
July 13 (9 AM to 3 PM) - Youth Clinic
August 17 (9 AM to 3 PM) - Youth Clinic
Pre-registration is preferred. Please
email us
with name, age, clinic date, email address and phone number of each participant. Parents/guardians must be prepared to transport participants to and from training location and stream.
Special Events
Fiesta en el Valle - June 8, 2019 (Noon to 4 PM)
Get ready to experience the majesty of the Valles Caldera and learn a new skill at this free family-friendly event.

Have you ever wanted to learn how to fly fish?
Wondered what to do if you encounter wildlife at close range?
Would you like to know the basics of outdoor safely?
Or maybe you want to finally visit the Valles Caldera (like you have been saying for years).

This is the event for you! Visitors will get the inside scoop on Park Ranger favorite hikes, the best ways to recreate on the preserve, and easy ways to keep yourself and your loved ones safe in the outdoors.
Last updated: July 15, 2019