Mountain Biking & E-biking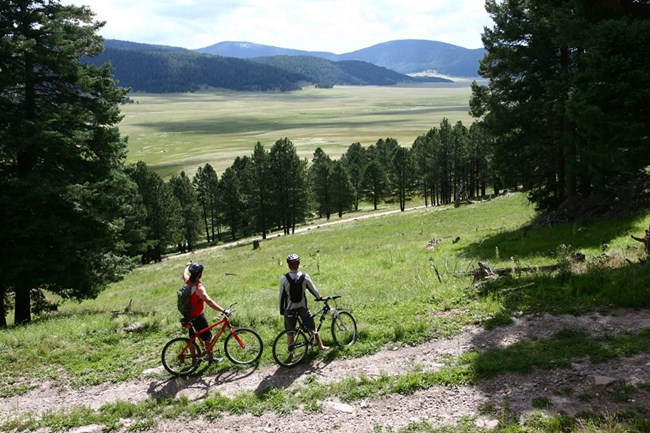 Looking for an extraordinary ride among nature's beauty where wildlife abounds? Ride through shaded forests, around high mountain tops, or noodle the edge of vast green meadows. Choose a heart-pumping climb or a relaxing family ride where gravity does most of the work. Whether a newbie on a bike or an experienced cyclist, it's all here at Valles Caldera.
Bicycles and E-bikes are allowed on all roads open to the public and designated bicycle routes.
Guidelines & Tips for Riders
Bicyclists are subject to the same traffic rules as automobiles.

Bicycles and E-bikes are allowed on all roads open to the public and designated bicycle routes.
The term "e-bike" means a two- or three-wheeled cycle with fully operable pedals and an electric motor of less than 750 watts (1 h.p.).
Except where use of motor vehicles by the public is allowed, using the electric motor to move an e-bike without pedaling is prohibited.

Use extreme caution when riding on preserve roads; roads are winding and narrow while shoulders are either narrow or nonexistent. Vehicle traffic can be heavy at times. There are no bicycle paths along roadways.

Cyclists must ride single-file. Commonly accepted road courtesy in the mountains calls for slower traffic to pull over and stop to allow congestion behind to pass where appropriate shoulder space is available.

Stay on designated open trails and roads. Backcountry trails and roads are maintained to provide identifiable routes that concentrate and support traffic. Concentrating travel on established paths reduces soil erosion and the likelihood that multiple routes will develop causing future environmental impact.

A

backcountry vehicle permit

is required if you wish to drive your personal vehicle into the backcountry before beginning your biking adventure. Permits are limited and available seasonally as conditions allow. No permit is needed to bike into the backcountry from the Valle Grande Contact Station.
We strongly recommend that safety gear, including helmet and high visibility clothing, be worn by all bicyclists.

Carry tools and spare parts, and inspect brakes for worn cables and pads.

Know how to navigate across the landscape. Plan your route according to time, terrain, and abilities.

Always let someone know your outdoor plans including your anticipated time of return.

Motorists frequently do not see bicyclists or fail to give them sufficient space on the road. Drivers sometimes pass on hill crests, blind curves, or in oncoming traffic.

Remember, safety is your responsibility.
Last updated: October 27, 2020