Date:
August 3, 2012
Contact:
Ernestine White
, 610-783-1029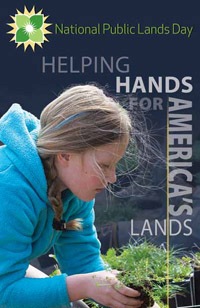 VALLEY FORGE, PA - Volunteers are invited to roll up their sleeves and get dirty help to spruce up Valley Forge National Historical Park on Saturday, September 29, 2012 in celebration of National Public Lands Day. 
The annual event, now in its 19th year, is the nation's largest hands-on volunteer effort to improve and enhance the nation's 600 million acres of public lands.Activities at Valley Forge begin at 8:30 a.m. with walk-in registration and volunteer sign-in.Participants are asked to come prepared in appropriate attire, shoes, and to bring gloves.All activities will start from the Visitor Center lower parking area.Volunteers will have the opportunity to make a real difference in the park by joining park staff to remove invasive plants and crayfish, conduct trails maintenance, and much more. 
"We plan to have many projects for volunteers to choose from, as well as a guided nature hike led by the Chester County Bird Club, Inc., an educational activity for children 3 years old and up, and an Environmental Expo.We hope that volunteers who participate in these important activities on National Public Lands Day will discover the value and importance of this special place and will continue to stay connected to the park throughout the year by additional volunteering, joining the Friends of Valley Forge Park, shopping at the Encampment Store located in the park's Visitor Center, or just enjoying the park recreational and historical resources" said Kate Hammond, Superintendent. 
She added that "We're happy to be partnering again with REI for the 7th year in a row for this important public event, and appreciate their commitment and dedication to preserving our environment."REI will be providing tee-shirts to the first 200 volunteers on event day, so get here early!
In 2011 at Valley Forge, more than 300 participants removed invasive plants, maintained trails and replica solider huts, removed trash, stabilized riparian buffers along the Valley Creek, and much more. 
Following the event's festivities there will be a BBQ Lunch located in the Visitor Center lower parking lot hosted by the Young Friends of Valley Forge Park.Donations for the BBQ Lunch are suggested.
For more information on how to participate in National Public Lands Day activities at Valley Forge National Historical Park, contact Ernestine White at (610) 783-1029 or e-mail us.

To see a list of all National Public Lands Day sites, activities, contacts, and downloadable photos from past events, visit the media center section of www.publiclandsday.org.