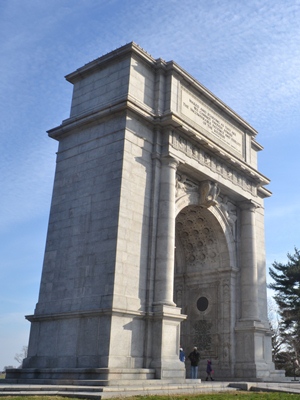 News Release Date:
October 31, 2013
Contact: Stephanie Loeb, 610-783-1013
Valley Forge, PA – Valley Forge National Historical Park will commemorate the Continental Army's legacy and honor all of America's military, past and present, with special events on Veterans Day, November 11. The public is welcome to attend a commemoration ceremony at the National Memorial Arch beginning at 11 a.m. To help remember and thank our nation's brave men and women, park staff will be joined by local and national military organizations including the Captain Harris D. Buckwalter American Legion Post 0164 and VFW Post 6341 from Royersford, Bugles Across America, Valley Forge Military Academy and College, Disabled American Veterans Chapter 25 from Collegeville, Gold Star Mothers, The Friends of Valley Forge Park, and with music from the 78th Army Band from Fort Dix.
Michael J. Mescavage, Commander for the State of PA Military Order of the Purple Heart, a veteran of the U.S. Army having served with the 196th Light Infantry Brigade during the Vietnam War will speak about The Badge of Merit, originally designed by George Washington to recognize the sacrifices made by our soldiers. Valley Forge's own, Ranger William Troppman, will also speak about General Washington's appreciation of the soldiers who served in the American armed forces.
Concluding the event the Harrisburg Military Entrance Processing Station will conduct an Oath of Enlistment Ceremony to induct twenty new recruits into the United States military from local recruiting companies in Valley Forge: Valley Forge Recruiting Company "Patriots" and the Pennsylvania Army National Guard: Team Valley Forge Recruit & Retention Battalion.
Immediately following the ceremony all military personnel and their families are invited to a reception in their honor in the Education Center, sponsored by the Valley Forge Convention and Visitors Bureau.
Visitors have a unique opportunity to learn about America's military through the ages from 12 p.m. to 3 p.m. at the Muhlenberg Brigade Huts. Park staff, volunteers, and veterans will present America's military history from the perspectives of a variety of conflicts including the Revolutionary, Civil, and Vietnam Wars. Guided tour options on Veterans Day include Trolley Tours and ranger-led walks. Reserve your trolley tour tickets in advance by calling 610-783-1074.
Visit our event page at https://go.nps.gov/1u5txa  
For more information about Valley Forge NHP, please visit our website at www.nps.gov/vafo or call
610-783-1099. Learn about the park's upcoming programs and special events on the Schedule of Events page on our website. Continue the conversation on the park's Facebook and Twitter and share your photos and experiences.